An Introduction To The Golden Threads of B2B Customer Management
The Customer Attuned Assessment (CAA®) has quickly established itself as the leading customer management (CM) capability assessment that is 100% focused on B2B companies.
Based on the three vital underpinning drivers of success in B2B – Trust, Interdependence & Equitability – the CAA® model breaks down into a virtuous circle of:
Knowledge
Strategy
Planning
Implementation
Results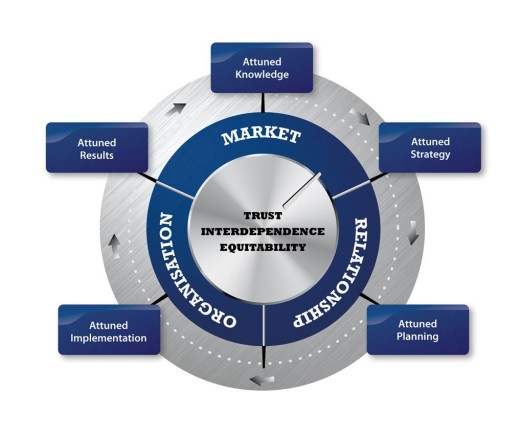 Working on three levels:
Operating in and developing your market
Managing account relationships
Organising resources and operations
The sub-sections that sit beneath the CAA® model (right) have been arranged to give twelve "golden threads" of critical B2B capability across knowledge, strategy, planning, etc.
This series of blogs explores each of these threads in turn and considers their application in B2B customer management. They are ALL IMPORTANT, but your business needs to decide which of these will be defining characteristics of YOUR corporate DNA.
Over the next few weeks I will be publishing blogs on the 12 Golden Threads that will get you thinking where your company sits and what changes you need to consider taking on.
Get Involved!
We are conducting research in June/July 2015 into which of the 12 Golden Threads are of most strategic importance in your sector.
To read the full e-book please fill out this form and we will e-mail it to you.
[Form id="20″]
Tell us your views: Tweet to @CustomerAttune or Tweet to @PeterLavers
Latest posts by Peter Lavers
(see all)
http://customerattuned.com/wp-content/uploads/2022/08/logo-1.svg
0
0
Peter Lavers
http://customerattuned.com/wp-content/uploads/2022/08/logo-1.svg
Peter Lavers
2015-06-29 10:02:31
2022-06-22 12:50:11
An Introduction To The Golden Threads of B2B Customer Management