Customer Plan – Just the Numbers
When asking for the customer plans, I am constantly amazed when all I'm shown is an excel spreadsheet of forecast numbers, supported by a three month deal promo plan. Sounds familiar?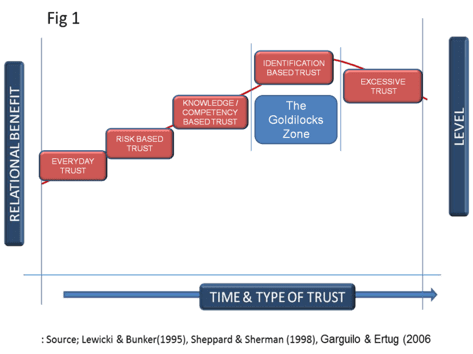 Even, sales teams – where the customer is a 'way of life' – tend to reduce plans to numbers. Often, this is because they're responding to the demands of finance or senior management. It's also a function of the planning process, which we've all endured in one shape or form.
While the planning process drives relationship development, it's intrinsically focused on delivering the numbers, not on developing the relationship. This is fundamental stuff. We all know the numbers flow from a 'Goldlilocks zone' relationship.
That's why we've re-orientated the customer planning process and focused on the areas which drive relationship development and mutual value. An amazing part of the doctoral programme is the continual discovery of nuggets of insight, and joining then up to further our understanding of B2B customer relationship development. This has lead to a totally new way of working with the customer planning process.
Emphasis has switched from a purely linear numbers approach to a more holistic one that drives relationship and value development simultaneously. In this way, the customer plan has real, tangible meaning for the sales team as it's based on customer related activities: things that you can do ! Yet, it still meets demands of finance and senior management as the number are still there
If You only do one thing… make sure you have more than numbers in your customer plan.
Have a view on this?  Tweet to @customerattune or  Tweet to @MarkHollyoake
Contact us at hello@customerattuned.com
Read more about:
Latest posts by Dr Mark Hollyoake
(see all)
0
0
Dr Mark Hollyoake
http://customerattuned.com/wp-content/uploads/2022/08/logo-1.svg
Dr Mark Hollyoake
2016-07-25 07:20:30
2022-09-08 10:05:07
Customer Plan – Just the Numbers