In the news…International Journal of Sales Transformation features the B2B "Golden Threads" Strategic Priorities
Read how B2B industries scored their strategic priorities for 2018 (which means starting critical changes now!) in the results from the Golden Threads Research, as featured in the International Journal of Sales Transformation.
Click on the images below to read the full article, where Peter Lavers explains the results from the international research compiled in September 2015.
Senior professionals with CM re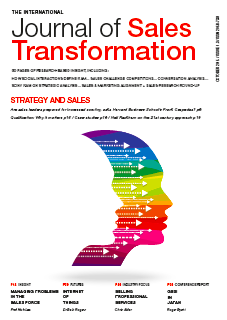 sponsibility were targeted in companies or business units that are B2B. 105 people responded representing fifteen different sectors. The Customer Attuned Assessment (CAA®) model has twelve "golden threads" of critical B2B capability across knowledge, strategy, planning, implementation & results.
Peter Lavers, Director of Customer Attuned Ltd, said the results were fascinating. "This research confirms what we passionately believe about customer management in B2B – that it's about building long-term quality relationships based on trust; working together for mutual commercial benefit"
B2B companies should read this report and develop their own strategies for customer management excellence – especially if they aim for both Hunting and Farming to be defining characteristics of their corporate DNA.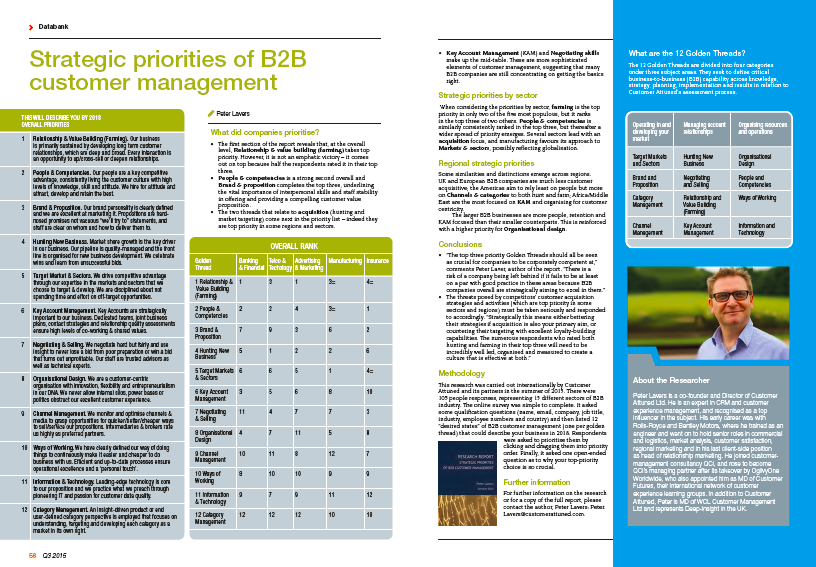 To read the full booklet on aligning your B2B Strategic Priorities,  download it here for free. 
The published results are also available to download –  Look at how your industry scored here.
Get in touch to find out how to to get your company on the right track for 2018
Latest posts by Ellie Luk
(see all)
0
0
Ellie Luk
http://customerattuned.com/wp-content/uploads/2022/08/logo-1.svg
Ellie Luk
2016-01-22 12:08:33
2022-06-22 12:16:05
In the news…International Journal of Sales Transformation features the B2B "Golden Threads" Strategic Priorities