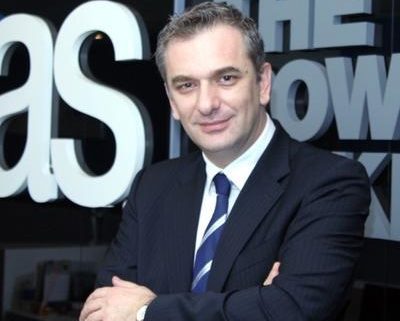 Conversation with Kadir Dindar, Head of Global Practice Customer Intelligence, SAS
I met Kadir at the SAS Analytics Experience conference in Amsterdam and had a great chat with him about the customer centric agenda within business and how analytics underpin everything.
Kadir is the Head of Global Practice Customer Intelligence at SAS, based in Heidelberg. Like me he has a client-side background and is passionate about making Marketing more data-driven.
It was a pleasure to meet with someone who has faced similar challenges to me, albeit in different sectors and commercial circumstances. This type of encounter helps challenge and validate our own assumptions and preconceptions, and it heartened me that Kadir and I have drawn very similar conclusions from our own professional journeys in the fields of Marketing, DM, CRM, CX, CVM, and Analytics.
Here's a summary of the three main conclusions that can be drawn from our discussion:
The Strategic Value of Data. Utilising data more effectively to improve campaign response is only scratching the surface of its potential value to your business. This ties in remarkably well with the two blogs that I wrote in the run-up to Analytics Experience on how Customer Data is the New Marketing Battleground and therefore Analytics are the weapons guidance systems!
Omni-channel is Real. It's not just the latest hype or bandwagon! Too many companies have adopted "digital" but have inadvertently added yet another silo to their business! Kadir made an excellent point that it's a dangerous place to be if your business logic has become siloed – even worse if it's hard coded in different channels – because a consistent and distinctive customer experience becomes much harder to achieve. This isn't hype because customers are omni-channel! This is something that the new AI analytics tools can help with – there is no data source that SAS cannot analyse thanks to its Data Quality solutions.
Organisational Redesign is Required. I'm not talking about another rearrangement of the deck chairs on the Titanic! Kadir expressed it as a fundamental mindset change from product- or channel-centric pre-eminence to a customer obsessive culture. This will drive systemic change, which often needs to start with what's being analysed, measured and performance managed in the organisation. The companies that will win will help their staff overcome their fear of change (particularly about how AI may affect their jobs), and engage them in the exciting adventure of recreating themselves to be fit for the ultra-connected, real time, empowered future! This new world is reflected by a new 'data generation' which has emerged, which demands a more personalised (and data-driven) customer experience.
This brings me back to the subject of this blog. Our transformation programmes, marketing and CRM strategies are nothing without connected, quality data and analytics.
The list of once-great organisations falling by the wayside gets bigger every day – don't let your company be on it!
Latest posts by Peter Lavers
(see all)
https://customerattuned.com/wp-content/uploads/2017/11/Kadir.jpg
400
400
Peter Lavers
https://customerattuned.com/wp-content/uploads/2016/05/logo.png
Peter Lavers
2017-11-13 11:34:33
2017-11-13 11:34:33
Marketing and CRM without Analytics are Nothing