The Golden Threads: Part 10 (of 12): People & Competencies
This series of blogs explores twelve "golden threads" of critical capability across the CAA® model and considers their application in B2B customer management (CM). All of the threads are important, but your business needs to decide which of these will be defining characteristics of YOUR corporate DNA.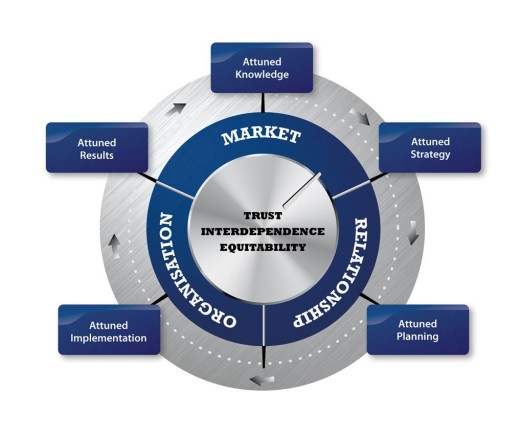 The tenth golden thread is People & Competencies:
Staff Knowledge, Skills & Attitude
Do you understand what knowledge is needed for different CM roles? Is information access well managed? Do you ensure against 'tribal wisdom'? Do you have a database of the competency profiles of all staff?
HR Strategy
Do senior management take a clear lead in CM, cascading objectives down the organisation? Is the CUSTOMER culture defined, with key terminology for corporate personality, attitudes & behaviours? Do job descriptions reflect customer-oriented competencies? Is there a common approach to competency assessment & development?
People & Competency Development Plans
Do CM objectives drive staff recruitment, retention, development, reward, recognition & succession plans based on competencies required & valued? Do you utilise symbols of change and reinforce on-culture behaviours? Are you developing broad business managers rather than just product experts?
Induction, Performance Management & Training
Is your competency development leading to high performance behaviours? Do customer-facing staff fully understand the proposition? Does training include the principles of Trust, Interdependence & Equitability? Is negotiation & interpersonal style training in place? Is coaching part of your CM culture?
Performing Individually
Is the culture regularly assessed vs. required behaviours and rituals? Is there a formal & honest measure of how effectively staff feel they are being led? Are underperforming individuals given appropriate support/training/coaching; are they sensitively managed out if required? Are pay & benefits linked to CM performance?
How does B2B perform in these five areas?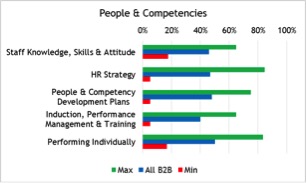 The chart shows the highest, lowest and mean (benchmark) scores for companies on the Customer Attuned database. The benchmarks show a slight dip in execution in this area, and that this could be an area of competitive advantage. The lowest scores registered show that some companies in the sector have no effective 'customer culture'.
Where would your business score?
A company that has its people as a defining characteristic of its corporate DNA:
Sees them as a key competitive advantage
Consistently 'lives' its customer culture
Demonstrates high levels of knowledge, skill and attitude
Has customer management professionals with both broad-based commercial skills and technical expertise
Invests in its people to stay ahead of the competition
Hires for attitude as well as technical skill
Has no trouble attracting and retaining the best
Uses a customer-focused competency framework for staff development
---
Get Involved!
We are conducting research in June/July 2015 into which of the 12 Golden Threads are of most strategic importance in your sector.
---
To read the full e-book please fill out this form and we will e-mail it to you.
[Form id="20″]
Have a view on this? Tweet to @CustomerAttune// or Tweet to @PeterLavers//
Latest posts by Peter Lavers
(see all)
http://customerattuned.com/wp-content/uploads/2022/08/logo-1.svg
0
0
Peter Lavers
http://customerattuned.com/wp-content/uploads/2022/08/logo-1.svg
Peter Lavers
2015-07-10 07:00:28
2022-09-08 09:54:41
The Golden Threads: Part 10 (of 12): People & Competencies