The Golden Threads: Part 3 (of 12): Category Management
This series of blogs explores twelve "golden threads" of critical capability across the CAA® model and considers their application in B2B customer management (CM). All of the threads are important, but your business needs to decide which of these will be defining characteristics of YOUR corporate DNA.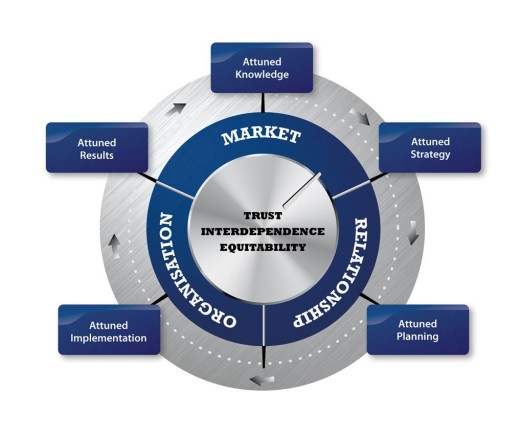 The third golden thread is Category Management:
which is distinct from Market or Sector because it hones in on discrete (typically) product lines & groupings that are defined either by the market or the customer. It's important in B2B because customers may be organised this way and because it requires knowledge of and engagement with "the customer's customer" (sometimes called B2B2C). Category Management covers:
Category Insights
Do you have a common approach to regularly research category, channel, shopper & consumer needs that translate into category opportunities? Do you understand any distinctions in purchasing/decision making behaviour & timing across categories? Have you identified the market price leaders and followers?
Category Strategy
Has category rationale been used to develop the portfolio of products? Is there a category partnership approach for key accounts to influence the end consumer? Do you manage/ influence market competitive consumer pricing in each category? Is there a clear vision for the "ideal" point of decision (POD)?
Category Plans
Is the category strategy evident in marketing and channel planning? Is end-user/customer's customer/shopper research reflected in your marketing plans? Do account plans incorporate these insights and do you use them to form category-based arguments?
Category Management
Is a whole-category-growth perspective driving activity (vs. random cherry picking)? How do you manage & control category levers? Where you have worked jointly with customers to deliver category growth initiatives, was the effort broadly equal on both sides?
Winning in Categories
Are specific category share growth measurements in place?
Are you achieving Category Growth targets with your top customers?
Have you achieved either a formal or informal category leadership status with key customers?
Do you have category measures of competitive advantage beyond market share?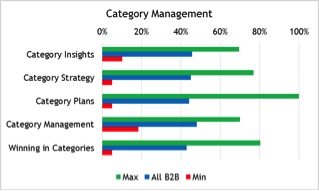 The chart shows the highest, lowest and mean (benchmark) scores for companies on the Customer Attuned database. It shows that B2B overall is solid with little variance from insight through to execution, and that excellence has only being witnessed in planning so far. The lowest scores registered confirm that Category and end-consumer thinking hasn't permeated all B2B companies yet.
Where would your business score?
A company that has category management as a defining characteristic of its corporate DNA:
Employs a category perspective that focuses on understanding the category as a market in its own right
Clearly and consistently defines and sizes its categories
Drives insight through excellent customer understanding
Targets, manages and develops categories in a consistent way with their Market/Sector approach (see blog 1 in the series).
---
Get Involved!
We are conducting research in June/July 2015 into which of the 12 Golden Threads are of most strategic importance in your sector.
---
To read the full e-book please fill out this form and we will e-mail it to you.
[Form id="20″]
Have a view on this? Tweet to @CustomerAttune// or Tweet to @PeterLavers//
Latest posts by Peter Lavers
(see all)
http://customerattuned.com/wp-content/uploads/2022/08/logo-1.svg
0
0
Peter Lavers
http://customerattuned.com/wp-content/uploads/2022/08/logo-1.svg
Peter Lavers
2015-07-01 07:00:05
2022-09-08 09:50:11
The Golden Threads: Part 3 (of 12): Category Management