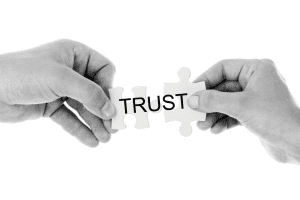 How strong is the relationship with your most important customer? Over the last 15 years we have been researching and exploring trust as an indicator of partnership strength.
When you have a customer who has become more of a partner, due to the value, volume, interdependence and barriers to exit, that have built up over the years, it's important to understand the internal dynamics and the level of trust that exists.
Why Trust?
Trust is a key indicator of the relationship health and insight into the potential it offers going forward. High  trust equates to value creating potential in the relationship.
Unfortunately, we often find the opposite, a disconnect between relationship intentions and the actual customer management delivered. If this is not addressed, it can significantly effect relationship trust and potential.
We have developed the Trust Equation ® to help sales teams to reliably gauge the strength of their relationships, and ways to improve it. The Equation is built on evidence based research into the components of B2B trust. It is straight forward and rapid to deploy. If you would like real actionable insights into your most important customer relationship, to know how to hold onto it and improve it, then understanding the level of trust is vital.
Mark is a co-founder and Director of Customer Attuned Ltd. He holds a Doctorate from the University ofSouthampton, his thesis focused on Trust as a dynamic within business to business customer relationships.

He is an expert in B2B Customer Experience and Customer Management. This includes CM strategy development; execution of improvement plans (incl. organisational modelling for customer management); programme design; and partnership & alliance development.

Mark's applied work across FMCG, industrials, medical devices, financial services, business services and construction has led to organisations making, significant improvements to their customer management. A large focus of this work has been moving organisations up the Trust Ladder to enable them to benefit from reduced cost to serve, while continuing to innovate and deliver mutual value.

Mark is a Fellow of the Chartered Institute of Marketing and Member of the Institute of Sales and Marketing Management. He holds an MBA in strategy from Henley Business School.
Latest posts by Mark Hollyoake (see all)
https://customerattuned.com/wp-content/uploads/2016/05/logo.png
0
0
Mark Hollyoake
https://customerattuned.com/wp-content/uploads/2016/05/logo.png
Mark Hollyoake
2017-08-23 14:21:37
2017-08-23 14:21:37
'TRUST' – THE PARTNERSHIP GLUE