Managing Distributors as Partners
Are you considering using distributors, or unsure whether you are getting the most from your existing distributors? Or, are you a distributor manager looking to up your game and improve the relationships you already have?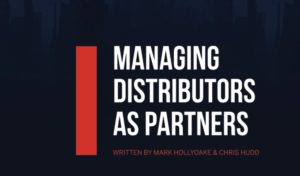 This book draws on years of expertise and experience combined with current research to enable you to develop 'good practice' distributor management in this increasingly complex field. It focuses on how to select the right partner, manage the right partner, and develop or transition the right partner.
What value will it provide?
Each chapter will take you through practical steps to enable you to:
 Increase the level of efficiency and effectiveness of your distributor relationships.
Develop a consistent approach to distributor management within your commercial team.
Establish distributor management as a core commercial competence within your organisation.
Reduce the need to change distributor(s) or reversion to the contract to resolve performance issues.
Enable you to increase the value generating potential from distributor based relationships.
Create a recognised 'way' of managing customers through distributor relationships.
The management and development of effective distributor partners is, 'part art and part science'. It's a subject that little has been written about or time given to develop a good practice approach to its improvement.
What you will learn from this book
In this book we have taken a logical, practical and pragmatic approach based on years of experience and sound customer management. A distributor relationship is never the finished article as its always 'work in progress'.
We liken the process to sailing, where you have a destination in mind, yet need to constantly trim the sails to optimise the wind to maximise your momentum. You may not end up in exactly the place you intended, however it will be close and you and your partners should be making progress towards common market goals.
Remember this is the start of a journey… using and applying the thinking in this book will enable you to make your distributor relationships an extension of your organisation and a real value enhancer.
Latest posts by Dr Mark Hollyoake
(see all)