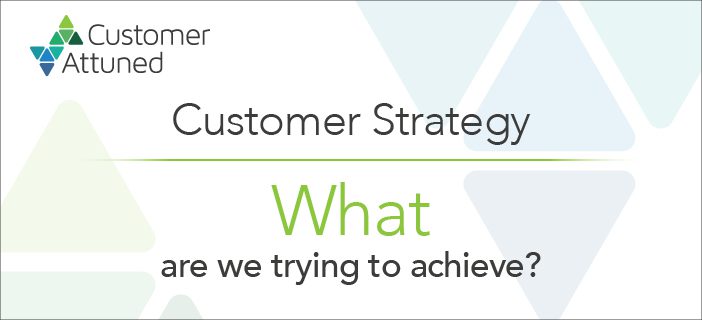 12 Critical Components of Great B2B Customer Strategy – Part 1
Top CX Influencer, Peter Lavers, shares his expertise on B2B Customer Strategy in this the first of three posts.
In my c.100 customer management capability assessments in all types of businesses and sectors I've seen a lot of customer strategies.
I am often asked to describe what makes great CRM/CEM/KAM/CM/CVM/CX strategy (referred to hereafter as "customer strategy"), and more recently what makes a great B2B customer strategy.
To be honest it's difficult to give a simple answer, because all the best strategies I've seen look very different on the surface.
And rightly so!
Every business' customer strategy should be unique because they all are starting from differing positions of strength and weakness and all have (or should have!) something inimitable in their vision or value proposition.
12 Critical Components of Customer Strategy
However, there are some critical components that consistently appear in all the best strategies (albeit varying slightly between B2B and B2C), which therefore become a useful checklist to ensure that all the bases are covered in your own strategy.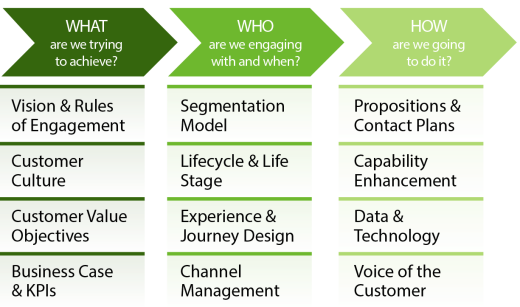 We usually approach customer strategy development in three distinct steps with 12 explicit components. The B2B interpretation of each of these is described in this and the next two Blogs . . . .
The "What are we trying to achieve?" components are:
Vision & Rules of Engagement.
It is vital that the leaders in the organisation interpret the corporate vision for what that actually means for customers and their experience of dealing with you and your account teams. Too many businesses still don't mention the customer in their vision statements. Some don't even have common agreement on the definitions of key terms used – customer, account, partner, channel, key account, proposition, value, etc. – i.e. there are no agreed 'rules of engagement'
Customer Culture.
An organisation's culture can make or break its customer strategy. The culture determines how customers are really esteemed in the business – B2B is no exception! This will show up not just in direct account interactions, but also in the levels of priority and focus that "customer-centred" initiatives receive in terms of management time and effort. The culture also needs to evolve with the times. In the last decade the customer experience and channel landscape has been transformed. Cultures that haven't changed with it will appear stale or aloof.
Customer Value Objectives.
It is vital that the customer strategy has value objectives that are distinct from product sales targets, phrased in ways that all stakeholders can immediately see the benefits to the business. The B2B customer value objectives at the heart of the Customer Attuned model are: Trust – never undermine your trustworthiness with your account; Interdependence – build mutual dependence into the account relationship (or rectify a dependency imbalance); and Equitability – ensure the relationship works commercially over time for all parties involved. Does your business have any clear strategic objectives in any of these three vitally important areas?!
Business Case and KPIs.
Customer strategy-led new initiatives often struggle to compete for budget with traditional marketing. However, Marketing Directors world-wide are being challenged to be more results (ROI) focused, which ideally aligns to a shift to more direct / CRM-driven campaigns. Customer management teams should be challenged to build a compelling business case and value tracking (KPI) model for the strategy – including 'soft' benefits but not using them as an excuse for inadequate rigor or governance.
---

Customer Attuned specialises in understanding how touchpoints impact the strength of your business relationships and developing strategies that deliver mutual value.
To find out if and how we can help you, please get in touch with us.
---
Latest posts by Peter Lavers
(see all)
https://customerattuned.com/wp-content/uploads/2015/04/00142_128_CA_Article-Headers_JULY_v2.jpg
320
702
Peter Lavers
http://customerattuned.com/wp-content/uploads/2022/08/logo-1.svg
Peter Lavers
2015-04-29 16:37:24
2022-09-08 09:47:09
12 Critical Components of Great B2B Customer Strategy – Part 1