'More and Better for Less'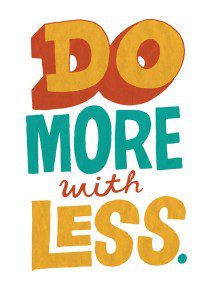 An environment of uncertainty, change and low inflation, coupled with sluggish market growth, make decisions on how to deliver more value, increasingly hard to realise.
When the boss says to the Sales Director: 'I would like you to take a really hard look at the sales organisation and let me know how you are going to deliver 'better and more for less '  in the next twelve months,' the Sales Director may be forgiven for blanching. Coming on the back of years of downsizing, re-organisation and lean system thinking, it's often difficult to see opportunities in the market for growth.
At this point, it's worth standing back and asking a few questions:
As the market landscape changes, are the changes reflected in the delivery of your sales proposition and customer experience? It's not just about being relevant to your customer needs and wants; it's about developing the capability to deliver beyond this, refining and fine tuning the sales organisation and channels accordingly, which needs to be within the overall strategy and direction of travel of the organisation.
How are our customers coping with the changes? Are we seeing new customers emerging for our brands/products/solutions? Do they need a different proposition from us? Are we up to the challenge of delivering it? Are we capable of doing it with our current systems, processes and ways of working?
Asking these questions will help you to apply a systemic approach to your sales organisation, and determine how capable it is of delivering 'more and better for less'. Applying our Business Capability Builder (BCB ®), enables you to take an objective view of your sales organisation. We also provide comparators of who else is doing great stuff in other sectors, and where you can develop internal capability to deliver. We provide this in the form of a road map, including benefits case and routes to make it happen.
We help you to work more efficiently and effectively to deliver in turbulent times.
Latest posts by Dr Mark Hollyoake
(see all)
http://customerattuned.com/wp-content/uploads/2022/08/logo-1.svg
0
0
Dr Mark Hollyoake
http://customerattuned.com/wp-content/uploads/2022/08/logo-1.svg
Dr Mark Hollyoake
2017-08-30 16:30:26
2022-09-08 10:29:22
'More and Better for Less'