This series of blogs explores twelve "golden threads" of critical capability across the CAA® model and considers their application in B2B customer management (CM). All of the threads are important, but your business needs to decide which of these will be defining characteristics of YOUR corporate DNA.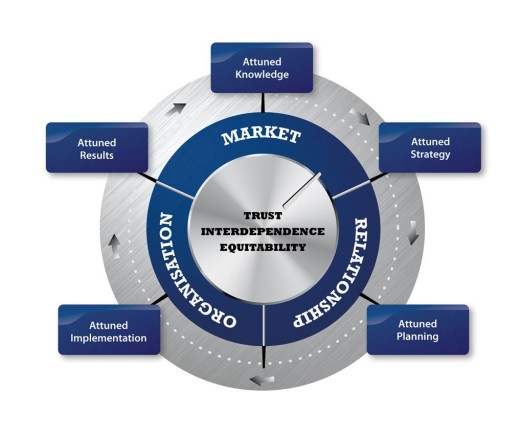 The eleventh golden thread is Ways of Working:
Understanding the Right Ways of Working
Is customer knowledge and insight used in the everyday working of staff? Do you analyse all feedback on customer experience & the ease of buying and using your product/service?
Ways of Working Strategy
Do you have strategic EODB (ease of doing business) aims, targets & objectives? Is cross functional working resulting in improved CM? Is there a "no blame" culture and are complaints corporately welcomed? Do your internal processes mirror the external customer journey? Is continuous improvement encouraged in CM?
Ways of Working Plans
Do your policies and procedures guarantee consistent ways of working within sales, service & support? Is there a cross functional plan to fill the process gaps and holes in the customer journey? Do business plans incorporate an approach to continuous improvement in CM?
Ways of Working & Process Management
Are your ways of working ensuring high levels of Trust, Interdependence & Equitability? Is there good cross functional or virtual working? Do you take action based on the root causes of compliments, problems and complaints? Do you continuously improve business processes to meet customer needs?
Optimal Ways of Working
Do you audit how easy you are to do business with consistently? Is your customer service benchmarked vs. best practice? Are account management processes reviewed for acceptability from the customers' perspective? Are you measuring the costs/benefits of CM activities & root cause preventative actions?
How does B2B perform in these five areas?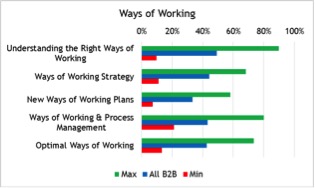 The chart shows the highest, lowest and mean (benchmark) scores for companies on the Customer Attuned database. It shows that B2B overall has a slight weakness in the way it plans its ways of working. The lowest scores registered suggest that some companies are purely doing the minimum when it comes to process management.
Where would your business score?
A company that has the way it does things as a defining characteristic of its corporate DNA:
Is renowned for the consistent quality of its customer management
Has clearly defined the "Company Way" of doing things
Manages customers through efficient and up-to-date processes & systems for operational excellence and an appropriate 'personal touch'
Continuously looks for new and improved ways of working that make it easier or more cost effective to do business with
---
Get Involved!
We are conducting research in June/July 2015 into which of the 12 Golden Threads are of most strategic importance in your sector.
---
To read the full e-book please fill out this form and we will e-mail it to you.
[Form id="20″]
Have a view on this? Tweet to @CustomerAttune// or Tweet to @PeterLavers//
Latest posts by Peter Lavers
(see all)
https://customerattuned.com/wp-content/uploads/2016/05/logo.png
0
0
Peter Lavers
https://customerattuned.com/wp-content/uploads/2016/05/logo.png
Peter Lavers
2015-07-13 07:00:00
2016-06-07 11:54:35
The Golden Threads: Part 11 (of 12): Ways of Working