The Golden Threads: Part 7 (of 12): Relationship & Value Building (Farming)
This series of blogs explores twelve "golden threads" of critical capability across the CAA® model and considers their application in B2B customer management (CM). All of the threads are important, but your business needs to decide which of these will be defining characteristics of YOUR corporate DNA.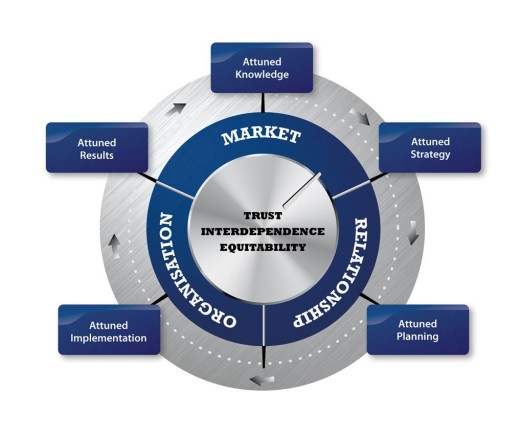 The seventh golden thread is Relationship & Value Building (Farming):
Customer Value & Needs Analyses
Do you know the contribution (net profit) of every customer? Do you build this into your pricing policies? Do you understand potential profitability? Is life time value (LTV) calculated and used in defining key accounts? Do you track & store Customer Service interactions? Have you established the real needs of your customer groups? Have you mapped where value destroying 'pain points' exist in the value chain?
Relationship Development Strategy
Is there a vision for Trust, Interdependence and Equitability that specifies how you define & measure them, their ideal state, and how this will be achieved? Do you segment your customers into groups that reflect similar value, needs and/or CM requirements? Does the strategy cover the physical and emotional experience in all touch points / moments of truth?
Relationship Development Plans
Are there high-level account, stakeholder and contact plans for every customer? Are all relevant internal functions involved in account planning? Is seasonal/periodic buying behaviour planned into your CM? Do you have mitigation plans for product/service/project delay or failure?
Relationship & Value Building
Are you delivering to agreed service levels? Are staff empowered to handle queries? Are you welcoming new customers? Are respect & trust the basis for all dealings & insight sharing? Does contact frequency vary by value or need? Do you have intensive care teams? Do changes in transaction patterns trigger action?
Effective Farmers
Do you track customer experience quality and performance vs. agreed standards? Do you measure retention, lapse & attrition rates? Are you achieving customer profitability targets? Do customers value the account manager's time that they pay for? Are customer measures in a language that demonstrates your contribution to their success?
How does B2B perform in these five areas?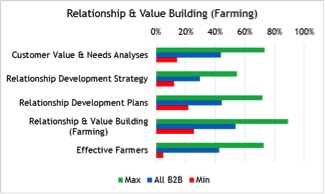 The chart shows the highest, lowest and mean (benchmark) scores for companies on the Customer Attuned database. It shows that B2B overall is relatively weak in strategy but strong in execution, although nobody is doing it perfectly. The lowest scores registered show at least some planning and activity in this area, with execution being the 'least weak' of all the low scores (otherwise they'd be out of business!).
Where would your business score?
A company that has relationship management as a defining characteristic of its corporate DNA:
Sustains its business primarily through the development of long term value- enhancing customer relationships based on trust, interdependence and equitability
Directs its primary focus, CM strategy, resource and investment toward holding and growing the value of the existing client base
Has depth and breadth of contact & relationship within customers' organisations
Customers who know that it is in it for the long term and view the company as suppliers/partners of choice in their field of expertise
Regularly reviews relationship quality to ensure that it stays attuned with those customers
Sees every interaction as an opportunity to up sell, cross sell or deepen the relationship
---
Get Involved!
We are conducting research in June/July 2015 into which of the 12 Golden Threads are of most strategic importance in your sector.
---
To read the full e-book please fill out this form and we will e-mail it to you.
[Form id="20″]
Have a view on this? Tweet to @CustomerAttune// or Tweet to @PeterLavers//
Latest posts by Peter Lavers
(see all)
http://customerattuned.com/wp-content/uploads/2022/08/logo-1.svg
0
0
Peter Lavers
http://customerattuned.com/wp-content/uploads/2022/08/logo-1.svg
Peter Lavers
2015-07-07 07:00:46
2022-09-08 09:54:42
The Golden Threads: Part 7 (of 12): Relationship & Value Building (Farming)