This series of blogs explores twelve "golden threads" of critical capability across the CAA® model and considers their application in B2B customer management (CM). All of the threads are important, but your business needs to decide which of these will be defining characteristics of YOUR corporate DNA.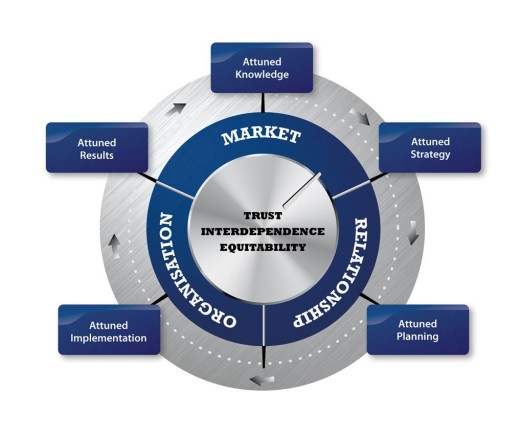 The eighth golden thread is Key Account Management:
Key Account Identification
Do you have a model that drives whether relationships are tactical, strategic or partnership? Do you know how important you are as a supplier to your key customers? Do you know all the internal influencers, recommenders, evaluators & blockers? Are you aligned with their new product development timelines?
Key Account strategy
Is there one definition of what constitutes a key account? Is there a strategy for trading with global customers? Do you 'enforce' key account status, or do you ask them what type of relationship they would like to have? Do key have a strategic plan covering investment, joint-working, innovation & resource prioritisation?
Key Account Planning
Do key account & global customer plans pull together all product, service & support elements, and are they accessible to everyone who contributes? Are good levels of predictability evident? Are there clear criteria to determine with whom you enter into joint business planning (JBP), co-location or co-creation?
Key Account Management
Are JBPs 'current' with mutual controls to ensure equitability? Does the relationship with global, regional & local customers work without tripping over each other? Do you co-locate staff? Is there cooperation in trade body membership, professional institutions, etc.? Have you gained category captain status?
Key Account Performance
Do you have a dashboard of measures with key customers driven from the JBP? Have you an agreed JBP review process and is it effective in driving corrective action? Do you regularly check and confirm with key partners that they are receiving the agreed relationship?
How does B2B perform in these five areas?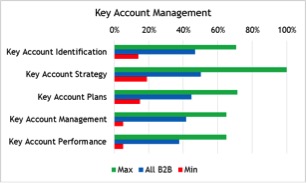 The chart shows the highest, lowest and mean (benchmark) scores for companies on the Customer Attuned database. As it might be expected in B2B, the benchmark is solid with an emphasis on strategy – even among the lowest scores registered.
Where would your business score?
A company that has key account management as a defining characteristic of its corporate DNA:
Has a customer base where a relatively small proportion of accounts deliver a high percentage of revenue/ profit, and key accounts have been identified as strategically important to the business
Identifies its key accounts based upon strategic criteria reflecting importance to the business and developmental potential
Has a dedicated account team for each key account and a dynamic joint business plan that delivers high levels of co-working, aligned strategy and shared values
Constantly monitors relationship quality
Has a contact strategy and account planning that are enabled through a CRM system accessible to the whole team
---
Get Involved!
We are conducting research in June/July 2015 into which of the 12 Golden Threads are of most strategic importance in your sector.
---
To read the full e-book please fill out this form and we will e-mail it to you.
[Form id="20″]
Have a view on this? Tweet to @CustomerAttune// or Tweet to @PeterLavers//
Latest posts by Peter Lavers
(see all)
https://customerattuned.com/wp-content/uploads/2016/05/logo.png
0
0
Peter Lavers
https://customerattuned.com/wp-content/uploads/2016/05/logo.png
Peter Lavers
2015-07-08 07:00:06
2016-06-07 11:55:15
The Golden Threads: Part 8 (of 12): Key Account Management