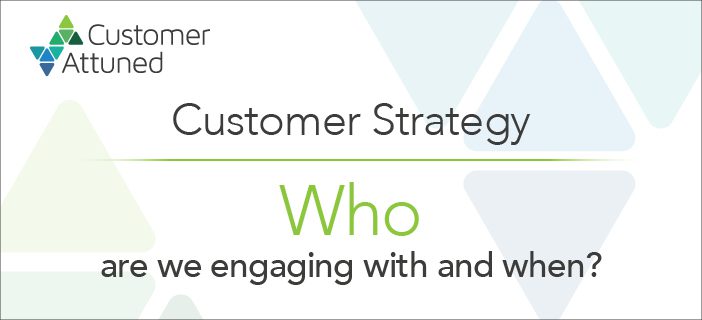 12 Critical Components of Customer Strategy – Part 2
Continuing his exploration of B2B Customer Strategy, Peter Lavers writes:
In the first blog on this subject I covered the four "What are we trying to achieve?" components of great B2B customer strategy.
The next step of strategy development addresses "Who are we engaging with and when?"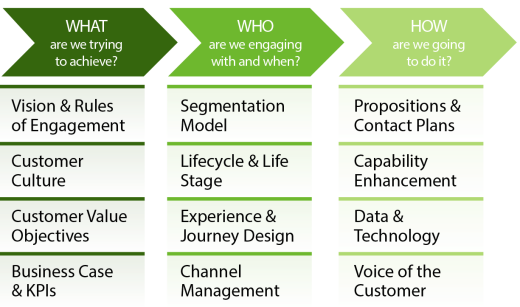 The four components to crack this are:
Segmentation Model.
The company's segmentation should be 100% embedded in both strategy and execution. Best practice is to have one segmentation model even if it is supplemented by analytical/campaign groups. Segments should be clearly defined, described and understood by staff, with dimensions that go beyond transaction value or simple "partner/key/other" account classification (needs, behaviours, categories, profitability, share-of-spend, lifetime value, etc.). A critical part of the strategy should be the management and tracking of migration across segments
Lifecycle & Life Stage.
The company's models and approach to managing product lifecycles and business life stage must be explicit in the customer strategy. Too many companies just offer the "same thing" because that's what the customer bought last time i.e. don't anticipate that their needs have now changed
Experience & Journey Design.
A common mistake in this area is to design the experience from the inside out, starting with corporate desired outcomes and internal processes. Customers, however, often view their "journeys" differently to the way organisations do, so your experience design must be outside-in and needs to map decision influencers and makers. Experience designers must also understand that how the customer/buyer 'feels' about their experience dealing with you is very often just as important as the physical product/service delivery. Sophisticated companies design 'blueprint experiences" for key decision journeys & segments
Channel Management.
How well is your organisation adapting to the changing world of multiple communication and service delivery channels, and customers' real-time expectations? Your customer strategy must prepare your business to deliver consistent, high quality service across established and emerging media and channels
---

Customer Attuned specialises in developing and implementing B2B Customer Strategies that deliver mutual value through improved satisfaction and customer retention.
To find out if and how we can help you, please get in touch with us.
---
Latest posts by Peter Lavers
(see all)
https://customerattuned.com/wp-content/uploads/2015/04/00142_128_CA_Article-Headers_JULY_2.jpg
320
702
Peter Lavers
http://customerattuned.com/wp-content/uploads/2022/08/logo-1.svg
Peter Lavers
2015-04-29 16:52:07
2022-09-08 09:47:08
12 Critical Components of Customer Strategy – Part 2