The Golden Threads: Part 4 (of 12): Channel Management
This series of blogs explores twelve "golden threads" of critical capability across the CAA® model and considers their application in B2B customer management (CM). All of the threads are important, but your business needs to decide which of these will be defining characteristics of YOUR corporate DNA.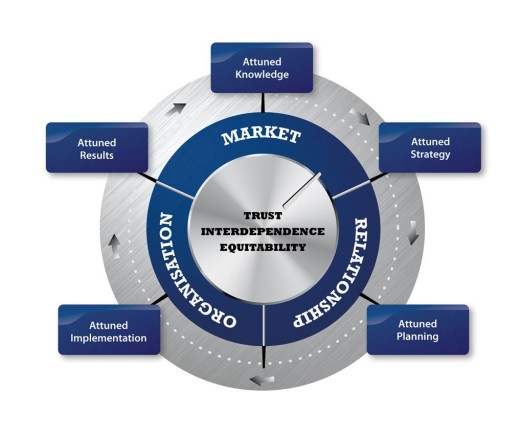 The fourth golden thread is Channel Management:
Channel & Media Trends & Opportunities
Is there a clear agreed definition of all channels to market (wholesalers, brokers, distributors, direct, digital, etc.) and have you identified how value flows through each channel? Are the needs and operations of all intermediaries well mapped? Do you monitor trends and preferences regarding existing and new channels / media?
Channel Strategy
Are you maximising profitability by channel? Does the strategy ensure that you maximise the opportunities of new media and personalise the digital experience?
Is there a vision for the "ideal" Point of Purchase (POP) by category & channel and is there a strategy to positively impact it?
Channel Plans
Are there clear plans for working with dealers, distributors, intermediaries & wholesalers? Do POP plans vary according to channels? Do you have a plan to develop your digital footprint? Do you have a plan to nurture customers and prospects through the new channels & media? Do you have a plan to make best use of social media?
Channel Management
Do you utilise all channels and implement new ways to improve customer contact, influence and cost-to-serve? Is the experience delivered consistently through dealers, distributors, intermediaries & wholesalers? Are you actively monitoring and responding to what customers & competitors are doing online and in social media?
Channel Effectiveness
Do you measure the variance in cost to serve in your channels? Do you know how effective you dealers, distributors, intermediaries & wholesalers are at achieving your objectives? Do you punch above your weight in digital & social engagement? Are POP levels of effectiveness improving?
How does B2B perform in these five areas?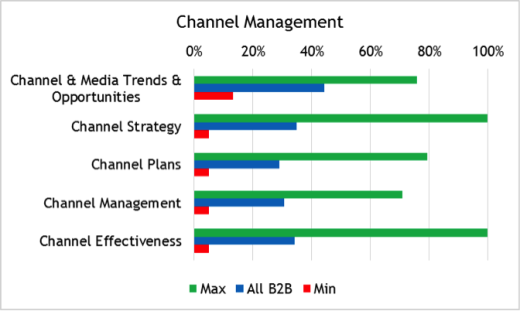 The chart shows the highest, lowest and mean (benchmark) scores for companies on the Customer Attuned database. It shows that B2B overall is still building its knowledge in this area and that there is still room for competitive advantage. The lowest scores registered confirm that channel & media management is undeveloped in some sectors of B2B.
Where would your business score?
A company that has channel management as a defining characteristic of its corporate DNA:
Has a clear channel strategy that optimises existing channels and introduces new channels and media as and when they are appropriate for their customers
Constantly monitors developments and customer appetite to look for quicker/ better/ cheaper ways to sell and service the propositions
Grasps early mover advantages that make it easier to do business with them
Is highly rated as preferred supplier/partner in the intermediated parts of its business (brokers, resellers, etc.)
---
Get Involved!
We are conducting research in June/July 2015 into which of the 12 Golden Threads are of most strategic importance in your sector.
---
To read the full e-book please fill out this form and we will e-mail it to you.
[Form id="20″]
Have a view on this? Tweet to @CustomerAttune// or Tweet to @PeterLavers//
Latest posts by Peter Lavers
(see all)
http://customerattuned.com/wp-content/uploads/2022/08/logo-1.svg
0
0
Peter Lavers
http://customerattuned.com/wp-content/uploads/2022/08/logo-1.svg
Peter Lavers
2015-07-02 07:00:33
2022-09-08 09:54:42
The Golden Threads: Part 4 (of 12): Channel Management