Building Trust in B2B Relationships – Customer Attuned Company Brochure
Building Trust in B2B Relationships
We specialise in building trust in B2B relationships to drive mutual commercial value.
We believe that Trust sits at the heart of a successful client centric strategy and the proposition is underpinned by trust-based relationships with customers, partners and colleagues.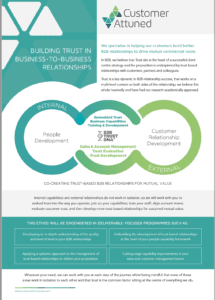 Trust is a key dynamic in B2B relationship success, that works on a multi-level context on both sides of the relationship; we believe this whole heartedly and have had our research academically approved. 
In our brochure, we explain why Trust matters and how our services help companies to build better commercially mutual relationships, working internally in your company and working externally with your suppliers, partners, intermediaries.
Building Trust in B2B
Inside, we look at developing trust inside your organisation, focusing on:
Embedding trust between management levels
Checking whether  your business capabilities are customer centric or not
Training & developing employees to build and manage trusted relationships
We also look at developing trust with your customers, partners, intermediaries and suppliers:
Reviewing whether Sales & Account management teams drive value to your company or not, and taking steps to improve them.
Evaluating Trust on both sides of your B2B relationships, discovering what matters for different stakeholders when it comes to building trust.
Capitalise on your strong B2B relationships using Trust Development outputs to strive for more mutual value.
---

Contact Us and request a copy of our brochure.
If you already know that you need support with investigating trust within your business, either from an internal or external perspective, please get in touch.
---
Latest posts by Ellie Luk
(see all)
https://customerattuned.com/wp-content/uploads/2021/08/B2B-Trust-DNA-Graphic-small.jpg
552
1181
Ellie Luk
http://customerattuned.com/wp-content/uploads/2022/08/logo-1.svg
Ellie Luk
2021-08-10 11:30:36
2022-06-22 11:57:14
Building Trust in B2B Relationships – Customer Attuned Company Brochure