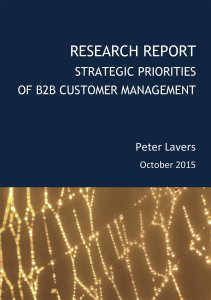 Can businesses have both acquisition and retention dominant in their corporate DNA?
Discover what strategies Banking and Finance prioritise, how Advertising and Marketing view their position, learn what Manufacturing view as important and what is less important to their strategy and how the Insurance sector plan to tackle the competitive broker arena.
Customer Attuned and its partners carried out an international research study over the summer to explore what will be the defining characteristics of B2B customer management (CM) strategy to 2018.
Senior professionals with CM responsibility were targeted in companies or business units that are B2B. 105 people responded representing fifteen different sectors. The Customer Attuned Assessment (CAA®) model has twelve "golden threads" of critical B2B capability across knowledge, strategy, planning, implementation & results.
Peter Lavers, Director of Customer Attuned Ltd, said the results were fascinating. "This research confirms what we passionately believe about customer management in B2B – that it's about building long-term quality relationships based on trust; working together for mutual commercial benefit"
B2B companies should read this report and develop their own strategies for customer management excellence – especially if they aim for both Hunting and Farming to be defining characteristics of their corporate DNA. 
Fill out this form to access the report
Peter Lavers is a co-founder and Director of Customer Attuned Ltd.

An expert in CRM and customer experience management and recognised as a top influencer in the subject e.g. IBM Futurist Roundtable member; Satmetrix Top 50 & SAP Top 60 Customer Experience influencers; Huffington Post Top 100 Customer Service professionals; MindTouch Top 50 Customer Success influencers; and Business Coach Top 100 Management Experts.

Peter's early career was with Rolls-Royce and Bentley Motors, where he trained as an engineer and went on to hold senior roles in commercial and logistics, market analysis, customer satisfaction, regional marketing and in his last client-side position as head of relationship marketing.
Latest posts by Peter Lavers (see all)
https://customerattuned.com/wp-content/uploads/2015/10/strategic-priorities-of-b2b-customer-management.jpg
1419
1000
Peter Lavers
https://customerattuned.com/wp-content/uploads/2016/05/logo.png
Peter Lavers
2015-10-19 12:08:02
2016-07-06 20:58:45
Strategic Priorities of B2B Customer Management Research Report