Trust in a B2B context has received increasing attention in recent years, as organisations recognize its role in relationship development.
In this blog, using insight from literature, and doctoral research, I share the core elements (DNA) of trust, and how they form a model for organisations to develop trust within B2B.
Trust in a B2B context can be defined as:
The willingness to be vulnerable to another party and the decision to engage in actions based upon an understanding of their ability, credibility and the expectations of mutual value exchange over time"
Using the definition as a foundation and overlaying insights from literature and research a model emerges for the development of trust within B2B relationships.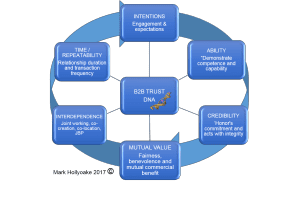 Intentions (I), the expectations you hold for the relationship, how much you plan to get involved and strategic focus? In, essence, what's your appetite for risk with this customer?
Ability (A) How good are you at what you do? This relates to your competence and capability in your sector, category and/or market? This covers not only your products, solutions, services, but the people that interface within the relationship.
Credibility (C) This is often glossed over as reputation. In this context it's a lot more encompassing, how commitments are met – do you do what you say? How does the organization act within the relationship and the level of integrity?
Within B2B relationships, it can be the partner's credibility within a sector and/or category, market to realise value from the relationship. E.g, Airbus approaching an engineering company to make plane parts, vs Easyjet, to explore development of a plane and your part in the process, who has the most credibility.
Mutual Value (Mu) Within the relationship, does the level of mutual commercial benefit appear fair? Do you see a level of benevolence in the relationship and the dealings between both sides.
Interdependence (In) What level of interdependence do you see within the relationship. The level of joint working, co-creation, co-location and joint business planning.
Time/Repeatability (T) How long has the relationship been in existence? How often do both sides transact or formally review the relationship?
With the DNA of trust established, it is possible to evaluate your relationship and the level of trust that exists. This then leads to the possibility of predicting the mutual value potential you could achieve from a customer relationship by developing different elements of this. More to come on this…………..
Latest posts by Dr Mark Hollyoake
(see all)
http://customerattuned.com/wp-content/uploads/2022/08/logo-1.svg
0
0
Dr Mark Hollyoake
http://customerattuned.com/wp-content/uploads/2022/08/logo-1.svg
Dr Mark Hollyoake
2017-03-20 11:54:10
2022-06-23 10:32:12
The DNA of Trust