How do you identify Customer Centricity in the Foodservice Supply Chain?
How do you identify Customer Centricity in the Foodservice Supply Chain?
When you go to a restaurant, café, bar or a pub you tend to expect that everything is available – we all live in a society now where (almost) 24/7 availability is the norm. You expect the service to be spot-on, the food and beverages of great quality, and always, always have more to choose from than you will ever purchase or consume.
Two things are a constant – the premises and the people that make it work (Barista, Chef, Serving Staff to mention a few …)
What is not perhaps as well known is the lengths that supply chain businesses, particularly in Foodservice, go to that ensures that the products that make the experience a reality get there in the first place.
I guess the clue is in the title Foodservice which is exactly what it says on the tin – a service industry from one business to another, B2B. Making sure that the right products go to the right places, in full and on time to the specified price implies a significant degree of Customer Centricity.
How does Customer Centricity work in practice?
Well, here are a few pointers:
Know your Customer – who their customers are, what they provide to them, and the standards that they set
Source their Products – that fulfil their standards, that underpin their offering, and at a price that suits everyone
State your Service Boundaries – what you can source, when you can supply, and at what price
Resource and Scale your Operation – so that you maximise your service levels, whilst minimising outlay, and maximising productivity, to be able to sell at the price that is acceptable to both parties
Manage your Customer Relationships – engage with them, connect regularly with decision makers, and gauge your performance through customer relationship surveys to be sure you get the feedback
Deliver on your Service Promises – on time, in full, within specification, all of the time
Rectify your Mistakes Quickly – if it does not arrive on time, in full, within specification, do something about it quickly; do not let infrequent incidents create friction and do not let them get more frequent!
Plan for your mutual future – innovation can work for mutual benefit, work with theirs, and share your industry insights
The key to becoming a successful Customer Centric company is to get these things working in seamless unison.
Want to know how to be Customer Centric in B2B?
Join us for an online panel discussion: Making Customer Centricity a Reality, on Wednesday 16th June, with guest speakers:
Louise Evans, Head Of Customer Experience at UCAS;
Paul Willoughby, Head of Insight & Strategy Research at Beazley Group Ltd (Lloyds market specialist insurer);
Peter Lavers, Director of Customer Attuned (a recognised influencer in the subject – recently featured in the Who's Who in CRM and published in CX Magazine).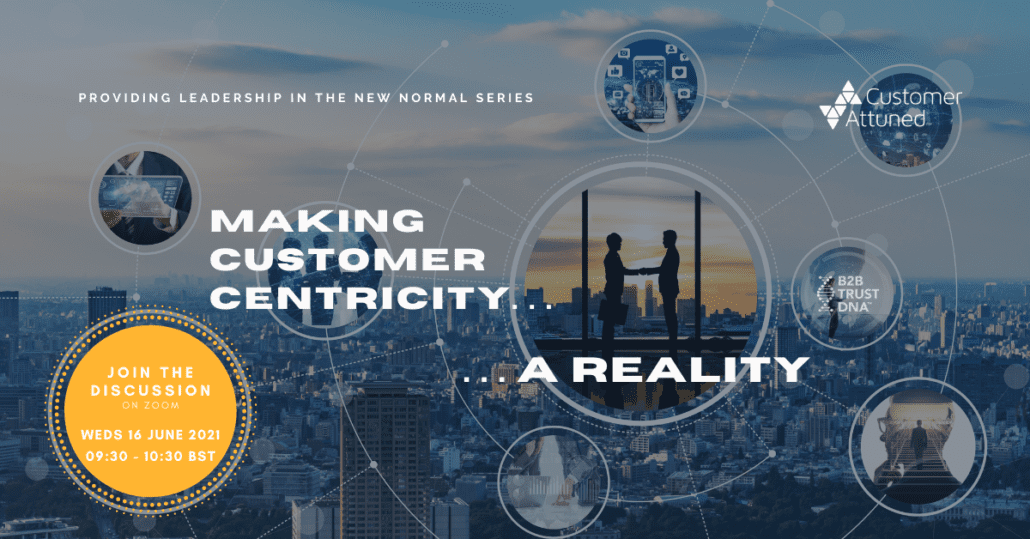 Latest posts by Gary Lunt
(see all)
https://customerattuned.com/wp-content/uploads/2021/05/Customer-Centricity-in-the-Food-service.png
1260
2240
Gary Lunt
http://customerattuned.com/wp-content/uploads/2022/08/logo-1.svg
Gary Lunt
2021-05-14 09:48:55
2022-06-22 12:44:52
How do you identify Customer Centricity in the Foodservice Supply Chain?