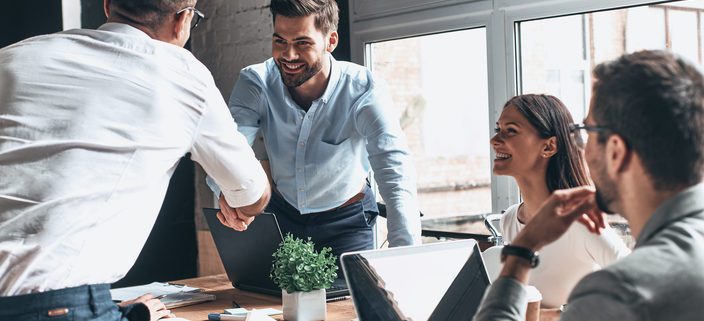 Trusted Relationships = Consistently Good Service
At Deep-Insight, I spend a lot of my time trying to help our clients figure out how to build strong trusted relationships with their B2B (Business-to-Business) customers. Trust is all about honesty, fairness and acting with integrity. It's one of the most basic elements of human interaction. And perhaps the most basic element of good account management. As they say:
"People buy from People" and
"You don't buy from a person you don't trust"
B2B is all about establishing strong people-to-people relationships. Trusted, committed relationships. And yet, here's an interesting statistic. When we look at the correlations* between the various drivers of customer retention in our Customer Relationship Quality (CRQ™) methodology, guess what the strongest correlation is?
It's between Service Performance and Trust.
When I first noticed this correlation, I was somewhat puzzled. It didn't surprise me that Trust was strongly correlated with Service Performance. But why is it the strongest link of any of the elements in our model? Why does the level of service have such a strong impact on the degree of trust between the client and a service provider?
The answer is actually straightforward, when you think about it in real life. Many – no, most – of our clients operate complex businesses where their interaction with customers is based on a complex (and sometimes bewildering) array of services. Even manufacturing companies are heavily service-orientated these days. As an account manager or account director, you might like to spend your time having meaningful conversations with senior executives about where their business is going and how you can help, but the reality of day-to-day interaction is often explaining why that critical piece of machinery has not been delivered on time, or why the network that manages their business has fallen over again.
When the basic delivery of service is a constant issue and source of frustration for customers, account managers find the trust built up with key client contacts erodes quickly. Responses like "I'll sort that out for you" are fine, as long as the service issue really is sorted out. But ongoing service problems can be notoriously problematic, particularly when processes or technology need to be changed in order to fix what's broken. It's frustrating for the client and it's frustrating for the account manager but, most important of all, it's damaging to the long-term relationship and ultimately the revenue stream from that customer.
Trusted relationships are based on consistently good service delivery. That's what the data says. And that's why getting the service right (and right first time) is so critical.
* Correlations based on tens of thousands of customer responses over more than a decade. Service – Trust R-Squared = 0.74
To find out more, visit www.deep-insight.com

Latest posts by John O'Connor
(see all)
https://customerattuned.com/wp-content/uploads/2019/06/shutterstock_1067105606-2.jpg
470
704
John O'Connor
http://customerattuned.com/wp-content/uploads/2022/08/logo-1.svg
John O'Connor
2019-06-06 11:45:47
2022-06-23 10:29:31
Trusted Relationships = Consistently Good Service