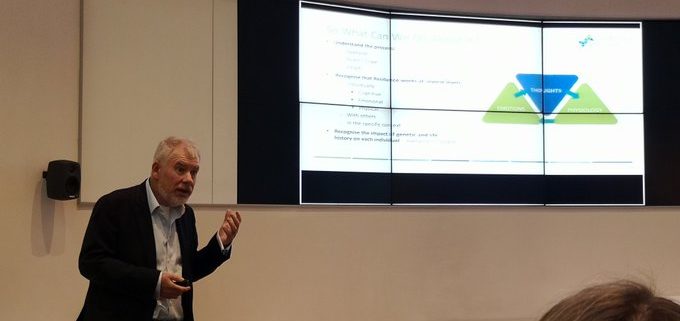 Breakfast Briefing: Providing leadership in times of uncertainty; Birmingham, October 2019
We recently held a breakfast briefing in Birmingham on the extremely topical subject of providing leadership in times of uncertainty and despite the usual problems with early morning transport we had a great mix of delegates who enjoyed the event.
Sincere thanks to Barclays Bank, who hosted us at their Latitude Club in Snowhill, a fantastic venue for Barclays customers to use for events such as this. Many thanks to Keith Ross, Karen Dodd, and Johanna Pearson for making the event happen.
Our presenters brought a wealth of experience and insight to the table:
Ian Bray is the CEO of Fentimans, and has an impressive track record in a variety of business environments, including Fullers, Wrigley, Muller, and AAH Pharmaceuticals.
Calum Byers is a senior associate of Customer Attuned, having previously held senior roles including MD of a technology company and leading the global sales operations and the EMEA services business for a telecoms multinational.
Our facilitator for the event was Nicola Denny of May Marketing, who has been working very closely with us this year.
Our topic was addressed from two different but complementary perspectives. Ian Bray suggested a formula for leadership success, and Calum Byers talked about creating resilience amongst leaders to ensure success in challenging times.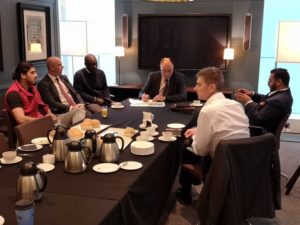 Our delegates were then able to discuss the topics in more detail in a number of facilitated sessions. Here is a brief summary of some of the insights that the delegates shared, together with some of the actions they felt were important to make happen to deliver leadership capabilities.
Q1. From your own experience, what are the factors that hinder or help an organisation to execute their intentions into reality?
 Insights into what should be done;
Make sure you communicate – regularly, consistently, with a clarity of message and understanding
Work as a team, creating real engagement and acceptance of the goals or challenges to be overcome
Share success
Be open about mistakes – accept they happened, learn from them, and behave differently
Be mindful of silos within larger organisations – have complete alignment between goals, roles, and responsibilities
And finally, focus upon outcomes, what needs to be achieved, and how to make them happen
Insights into what should not be done:
Do not dictate top down
Communicate poorly – inconsistent messages, lack of understanding, confusion
Take all the praise for your teams' success
Too little resource deployed
Move the goal posts regularly
Accept and work blindly in silo's
Q2. What examples of strategies or actions have you taken or will consider managing your own and your team's resilience?
Insights from delegates' own experiences:
Have someone to talk to – leader, mentor, coach – that can be a sounding board and help to put context to your situation
Have a personal diary to log when times are good or tough, and what you have learned and done differently as a result
Be aware of how you behave in front of your team – don't panic Mr Mannering!
Build an external network to learn from other industries, organisations, and individuals
Adopt a structured framework to great effect, such as that recommended by Calum Byers;

Appraise the situation
Have support relationships
Get emotional support
Appraise the situation, and put in place coping mechanisms
Appraise the situation, reframe it, and adopt a new plan
We are planning one further event on this topic in the New Year in London. So please keep an eye on our LinkedIn posts and the Customer Attuned website for further details.
Latest posts by Gary Lunt
(see all)
https://customerattuned.com/wp-content/uploads/2019/11/Calum.jpg
510
680
Gary Lunt
http://customerattuned.com/wp-content/uploads/2022/08/logo-1.svg
Gary Lunt
2019-11-13 15:59:34
2022-06-23 12:31:21
Breakfast Briefing: Providing leadership in times of uncertainty; Birmingham, October 2019