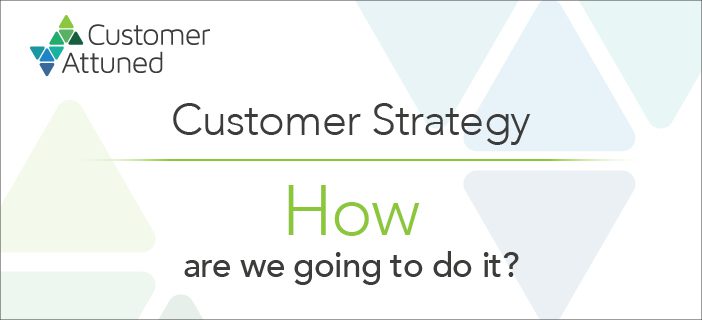 12 Critical Components of Great B2B Customer Strategy – Part 3
The final post of three in which Customer Experience expert Peter Lavers shares his thoughts on what makes a great B2B Customer Strategy.
In my two blogs on this subject I have covered the four "What are we trying to achieve?" and four "Who are we engaging with and when?" components of great B2B customer strategy.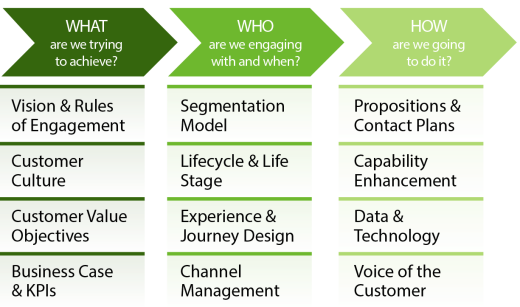 The next step of strategy development addresses "How are we going to do it?"
These final four components are:
Propositions & Contact Plans.
There is often confusion within businesses about exactly what "the proposition" is. This is partly because there are several levels of proposition in operation: the Brand Proposition, which is primarily aimed at attracting new clients; the Client Value Proposition(s) – CVPs, which are primarily about converting sales to new and existing clients (these also 'wrap' product propositions); and the Service Proposition, which covers the client experience / service promises that we make and keep regarding day-to-day interactions, transactions, complaints, etc. i.e. primarily about retention. Clarity and definition around these is vital to the customer strategy, which must then direct how the propositions and offers are to be made to customers via marketing initiatives and account teams
Capability Enhancement.
Strategies, programmes and initiatives will only be successful if the organisation and its people have the capabilities to enact them. The principles of good customer management are not taught in depth at school like an academic subject. These capabilities must therefore be raised systemically (i.e. across the Customer Attuned business system) and trained vocationally. The customer strategy should contain a clear agreed definition of the capabilities required to deliver its experience and value objectives, and to quality manage all the 'basics' of service delivery – responsiveness, turn-around times, first-contact resolution, etc.
Data & Technology.
Good management of customer information and the systems that store and share it is fundamental to good customer management and the delivery of an appropriate, intelligent customer experience. Good people can cover up poor data & systems, but good systems can't cover up poorly managed & motivated people! It is vital that the organisation delivers appropriate data to the account teams that need it to deliver the right customer experience and value-enhancing initiatives
Voice of the Customer.
"Customer satisfaction surveys" have moved on significantly in recent years, and it is questionable if B2C-derived methodologies are appropriate in complex B2B relationships. The customer strategy needs to set out how the organisation will clearly hear multi-layered feedback from everybody who deals with you, and track the elements of the experience that actually drive loyalty and value. The Deep Customer Insight methodology is the best approach that we have encountered, which is why we have partnered with this company in the UK.
---

Customer Attuned helps organisations that depend on strategic relationships. Our rigorous investigations help deliver stronger partnerships, built on trust and that deliver mutual value.
To discuss how our services can help with your organisational challenges, please contact us.
---
Latest posts by Peter Lavers
(see all)
https://customerattuned.com/wp-content/uploads/2015/05/00142_128_CA_Article-Headers_JULY_3.jpg
320
702
Peter Lavers
http://customerattuned.com/wp-content/uploads/2022/08/logo-1.svg
Peter Lavers
2015-05-01 11:25:35
2022-06-23 11:04:28
12 Critical Components of Great B2B Customer Strategy – Part 3