The Great Debate (5) – Building Trust
Trust is the willingness to be vulnerable based upon positive expectations about another's intentions or behaviours.
– Rousseau et al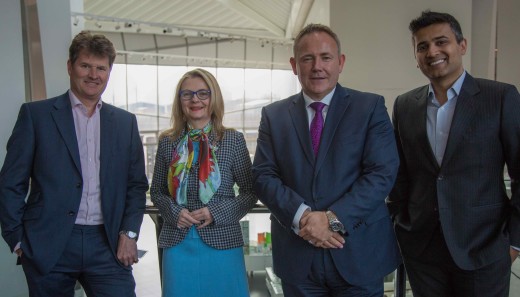 Trust is one of the fundamental components to successful B2B relationships and the key driver that strengthens the client relationship.
Now in it's third year, The Great Debate started the 2015 season of debates on an industry hot-topic: Building Trust, which saw attendance fill rapidly from major organisations in the B2B arena, each wanting insight as to where their company sits on 'The Trust Ladder' and listen to industry experts on how they operate and manage trust in their organisations.
Simon Treanor, On Trade Sales Director of Fuller, Smith and Turner, gave an open account of Fuller's philosophy on 'knowing their customers' and because of their vertical integration (wholesaler/pub) position puts them in a unique place to ensure they do exactly that – every customer leaves happy.
Fuller's have developed a company wide 'hierarchy of trust' where trust is embedded at three levels: on an individual basis, team level and overall corporate structure. Together they each follow "clarity of vision, purpose and objectives" which aligns everyone at each level.
And through their P.R.I.D.E programme developed with STaR, where 'R' is Relate, they encourage their people to nurture interpersonal relationships and understand the buyers needs – 'connect on a business and personal level and establish their (customers) views and needs'.
Having celebrated the company's 170th Anniversary recently, Simon remarked that Fuller's take decision making very seriously and embed plans for the long-term. To look back at the 150th Anniversary goals and vision and compare with today shows fundamental similarities, which is testament to sticking to core principles and the continuing success of the organisation.
Wayne Hudson, Managing Director of Frozen for Young's Seafood, shared both a personal journey on building trust within Young's, which has 3000 colleagues across multiple sites, and a professional point of view on the essential leadership values and behaviours he embedded company wide to build trust.
Having joined Young's as MD in January 2014, Wayne focused the company on three essential foundations – communication, alignment and growth. Being a private equity owned organisation meant the balance across product profitability and product quality had to be aligned and never compromised.
Internally, Wayne faced challenges across the five business units that essentially ran themselves independently and had created silos of culture and ways of working. Wayne merged them and created two business units, which gave insight as to how different levels of trust sat within the hierarchy of the business units and identified personal attitudes of the division heads, account managers and buyers.
He focused on aligning the new teams to build commercial capability in customer management and embedded leadership behaviours within the leadership team, not only did trust gather momentum but it created collaboration in every category across the business.
Elaine Stewart, Head of Markets and Business Development for Worldline – a division of Atos that provide e-payment transactional services that manage the whole payment value chain,from company, to partner and to customer across industries. Elaine spoke passionately on how Worldline put the customer at the heart of everything and how customer relationships with major industries once was incredibly fragile and huge efforts needed to be put into place to restore trust.
Having generated some eye opening results from their first Deep-Insight assessment in 2012, Worldline developed a framework to put the client at heart to build trust from within by educating and training their people to understand the customers' business – and to get insight on what it is really like to be a client of Atos and what the impacts are of service failure.
The framework's goals are to 'excite and delight' clients through positivity, learning and proactivity. Understanding the client's business priorities; having the knowledge to accelerate progress; and being accountable for actions will earn trust and deliver results for Worldline.
The journey wasn't easy as the Deep-Insight results showed – "you can't expect equitability with a customer if they simply view you as an approved service provider and nothing more".
Sitting down with each of the Deep-Insight segments (ambassadors, rationals, ambivalents, opponents and stalkers) gave Worldline the opportunity to turn relationships around and put account improvement plans in place. Key account teams had to present these plans to the senior team in a "Dragon's Den" environment.
eBECS CTO Amir Jafri's talk centred on the transformation in the business solutions space in the last 10 years and how the emergence of cloud services and revolutions in user experience has dramatically changed the way we work with our internal teams, our vendors and our clients.
Mark Hollyoake, Director of Customer Attuned, who has embarked on a DBA at Southampton University, held an interactive workshop on the mechanics and dynamics of trust building within B2B client relationships and how we can use this understanding to create mutual economic value.
Presenting delegates with his first round of research, The Trust Ladder, which provides a visual representation of different forms of trust and how each level operates within the B2B context: co-existence; shallow dependence; shallow interdependence; deep dependence and deep interdependence. Delegates were asked to share their definitions of trust within the B2B context, which lead to a lively reaction and some truly individual interpretations.
Master of ceremony and comedian, Neil Mullarkey shared skills on building trust from the theatre using his –
Top Trust Tips: Five L's
Learn … about the other person
Look … good eye contact = sincere and friendly
Listen … to understand the other persons' context
Let … the other person talk about her/himself
Leave well … how will they remember you?
If we all remember it's not all about 'me'; suspend our ego's; let the other person be right and never interrupt to correct, but only to validate – the impact you will have on how you made that person feel will leave a positive lasting impression of you.
In the afternoon's scheduled debate the speakers continued to build on the responses generated in the workshop on the levels of trust on the ladder and how it affects their organisations:
Deep Interdependence gets to a point where companies are so reliant on each other that a logical next step could be takeover or merger. Otherwise there is the danger of losing them to a competitor
You can become TOO interdependent – i.e. over dependent – there is a risk that challenge and healthy debate become unwelcome in the relationship
It is never healthy for any company to have too much reliance on a few customers – can lead to over dependent behaviours or loss of real independence as a business
Deep Interdependence gets to a point where companies are so reliant on each other that a logical next step could be takeover or merger. Otherwise there is the danger of losing them to a competitor
You can become TOO interdependent – i.e. over dependent – there is a risk that challenge and healthy debate become unwelcome in the relationship
It is never healthy for any company to have too much reliance on a few customers – can lead to over dependent behaviours or loss of real independence as a business
There's a huge difference in the way staff talk between "my customer" and "our customer". People can create silos around customers because they believe the relationship is based on them – not the company. These companies then miss opportunities to cross sell and give a consistent customer experience
Revisit your company values if there's no mention of trust or honesty/integrity. Train trust in your people, who need to have the right personal values first and a clear culture of trust in which they operate – or it won't work
Trust DOES pay back – leads to more repeat business and 'annuity' revenue
Latest posts by Ellie Luk
(see all)
0
0
Ellie Luk
http://customerattuned.com/wp-content/uploads/2022/08/logo-1.svg
Ellie Luk
2015-03-23 17:19:20
2022-06-23 10:32:45
The Great Debate (5) – Building Trust