The Golden Threads: Part 6 (of 12): Negotiating and Selling
This series of blogs explores twelve "golden threads" of critical capability across the CAA® model and considers their application in B2B customer management (CM). All of the threads are important, but your business needs to decide which of these will be defining characteristics of YOUR corporate DNA.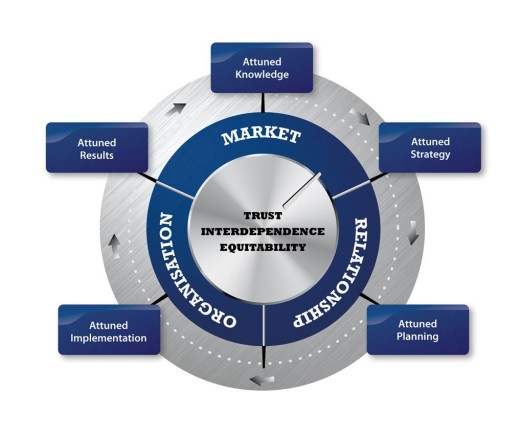 The sixth golden thread is Negotiating and Selling:
Knowledge of Customer & Prospect Buying Behaviour
Have you mapped & developed insight into the wants & needs of your customer and their customers? Have you mapped value enhancing 'gain points' in the value chain? Have you analysed decision making behaviour? Have you identified all key stakeholders involved in making the decision a success?
Negotiation Strategy
Is there a transparent basis for the allocation of time & budget to channels & customer segments and their respective account teams? Are your trade terms and investment in-line with profit potential? Is there a methodology balance relationship with risk? Is there a clear negotiating point defined that you will not go beyond?
Negotiating and Selling Methodologies
Do plans sync. with contractual agreements, etc? Have you mapped decision trees and do you review customer knowledge/intelligence? Is there a negotiation planning structure – roles, responsibilities, conditioning, opening/fall-back positions, etc? Do you have a model to systematically identify & plan cross selling?
Negotiating and Selling
Do you flex your negotiation style according to customer needs? Do selling presentations reflect the customer's success measures and language? Do you manage the tendering process to exert early influence? Do teams work to a contact plan to develop business within new divisions, group companies, etc.?
Sales Conversion
Is the rate of proposal conversion improving or already performing above industry standard? Do you review the results/outcomes of negotiations and ensure you consistently learn from them? Do you monitor your total cost of selling over time and can you show how it has fallen as a % of sales?
How does B2B perform in these five areas?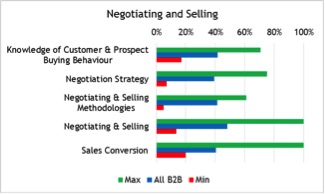 The chart shows the highest, lowest and mean (benchmark) scores for companies on the Customer Attuned database. It shows that B2B overall is solid with an emphasis on execution. The lowest scores registered suggest a lack of strategy & planning in this area.
Where would your business score?
A company that has negotiating & selling as a defining characteristic of its corporate DNA:
Never loses a bid because of poor preparation or negotiation
Doesn't win bids that turn out unprofitable
Everybody in it sees how their role in the business supports selling and reinforces the purchase decision
Has insight development through 'good listening' at the heart of the sales process
Ensures that customer solutions are based on identified needs with attributable benefits
Negotiates hard but fairly, achieving 'win, win' outcomes
Has customer facing staff with broad commercial skills as well as technical ability
Invests in these skills so that staff gain 'trusted advisor' status within clients
---
Get Involved!
We are conducting research in June/July 2015 into which of the 12 Golden Threads are of most strategic importance in your sector.
---
To read the full e-book please fill out this form and we will e-mail it to you.
[Form id="20″]
Have a view on this? Tweet to @CustomerAttune// or Tweet to @PeterLavers//
Latest posts by Peter Lavers
(see all)
http://customerattuned.com/wp-content/uploads/2022/08/logo-1.svg
0
0
Peter Lavers
http://customerattuned.com/wp-content/uploads/2022/08/logo-1.svg
Peter Lavers
2015-07-06 07:00:34
2022-09-08 09:54:42
The Golden Threads: Part 6 (of 12): Negotiating and Selling