The Golden Threads: Part 5 (of 12): Hunting New Business
This series of blogs explores twelve "golden threads" of critical capability across the CAA® model and considers their application in B2B customer management (CM). All of the threads are important, but your business needs to decide which of these will be defining characteristics of YOUR corporate DNA.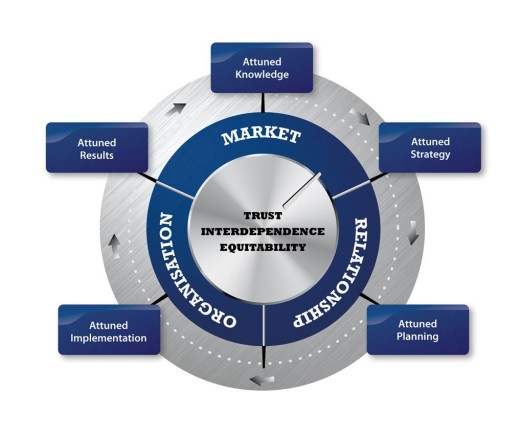 The fifth golden thread is Hunting New Business:
Prospect Profiling
Do you have intelligence regarding the way prospects list their suppliers and where you stand in these lists? How well do you understand the effectiveness of hunting activity? Have you defined the criteria by which you qualify prospects & opportunities in or out? Do you check for trustworthiness?
Acquisition Strategy
Is there a hunting strategy that is distinct from the NPD, Market and Category strategies? Does it identify key target prospects that will enable you to 'crack' the sector? Is there a common methodology to manage the pipeline? Do you collaborate with affinity partners to target each other's customers? Is there a winback strategy?
New Business Development Plans
Do you have a lead product? Do contact plans extend to prospects, especially Strategic Acquisition targets? Is the pipeline managed on a daily/ weekly/monthly/quarterly basis? Is collaboration with partners planned or ad-hoc? Do you plan advocacy to ensure customers & staff recommendations? Do you have winback plans?
Hunting New Business
Is there a hunger to win new business? Are roles & responsibilities clear across the business and intermediaries around the handling of prospect enquiries? Is there adequate diligence to ensure that 'deals' actually turn into purchase orders? Do winback programmes recognise the reason for lapse/loss?
Effective Hunters
Do you track the acquisition rate and celebrate wins from brand new customers? Do you track the sources of new business, which are managed through the pipeline (vs. "appearing out of nowhere")? Is collaboration and affinity partnering leading to new business? Are winback activities in recovering lost relationships?
How does B2B perform in these five areas?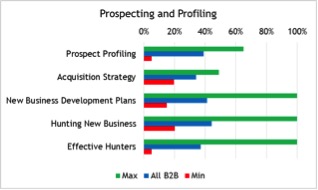 The chart shows the highest, lowest and mean (benchmark) scores for companies on the Customer Attuned database. B2B overall's strongest score is in the doing and the low best-ever scores for knowledge & strategy suggest that acquisition is quite tactical in the sector. The lowest scores registered show that strategy is at least in development in all B2B.
Where would your business score?
A company that has customer acquisition as a defining characteristic of its corporate DNA:
Has market/sector/category share growth as a major driver of its business plan
Has a structured and defined process in place to provide a constant pipeline of quality leads and new business
Has its customer management structure resourced, organised and funded around new business development
Celebrates new business wins
Learns from unsuccessful bids
---
Get Involved!
We are conducting research in June/July 2015 into which of the 12 Golden Threads are of most strategic importance in your sector.
---
To read the full e-book please fill out this form and we will e-mail it to you.
[Form id="20″]
Have a view on this? Tweet to @CustomerAttune// or Tweet to @PeterLavers//
Latest posts by Peter Lavers
(see all)
http://customerattuned.com/wp-content/uploads/2022/08/logo-1.svg
0
0
Peter Lavers
http://customerattuned.com/wp-content/uploads/2022/08/logo-1.svg
Peter Lavers
2015-07-03 07:00:17
2022-09-08 09:54:42
The Golden Threads: Part 5 (of 12): Hunting New Business