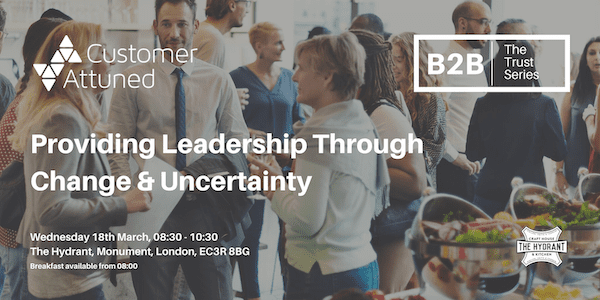 Providing Leadership Through Change & Uncertainty – B2B Trust Series Event – 18 March 2020
**COIVD 19 UPDATE: Event postponed until Thursday 4th June 2020**
It is with great regret that we have decided to postpone the breakfast event on Wednesday 18th March and reschedule to a new date: Thursday 4th June 2020, due to the coronavirus outbreak.

The impact the coronavirus has had on the UK has resulted in many companies advising their staff to work from home and avoid public engagements with more than 15 people. It is only sensible to take precautions at this time which sadly means, our 60+ person lively breakfast event, has to take a back seat until June.

We are sorry for this disruption, and truly hope everything will have settled down by June.

Please accept our apologies for any inconvenience caused.
The popular B2B Debate that explores the role that trust plays in world-class B2B organisations completes its tour of the UK and comes to London.
Providing Leadership Through Change & Uncertainty
Wednesday 18 March
The Hydrant, Monument, London, EC3R 8GB
08:00 Breakfast | 08:30 – 10:30 Event
As leaders, we are faced with ever-increasing demands for change. With little time to plan, this almost perpetual reorganisation can put a strain on people development, motivation and team building.
This insightful event encourages you to think about the leadership challenges you face and the role that trust plays, including:
How you are coping with constant uncertainty and how this impacts your resilience?
What level of trust do you have with your key stakeholders and how can you build upon this?
How do you turn intention into reality with the rise of change initiatives?
How can you leverage what you know about your team to drive competitive advantage?
What to Expect?
Lively and insightful discussions, in which leading industry figures share their journeys. You will also have the opportunity to network with like-minded leaders facing similar challenges. There will be a keynote from Jim McGowan, followed by a panel discussion and break out group activities.

Speakers on the day:
Dr. Jim McGowan – Managing Director – Wall Street English International 
Jim joined Wall Street English in 1992 on the front line in Madrid, Spain. Since that time, Jim has held a variety of roles within the company including Operations Manager for a Spanish franchise organization and National Service Manager in both Italy and Germany. Prior to joining Wall Street English Jim provided consultancy services for Shell UK and for European Union funded projects.
Laura Jordan – Chief Operating Officer, Insurance Pricing – AXA XL
Laura is an actuary with over 20 years of global experience in the insurance industry. Laura currently manages a global team of 30 people from east coast USA to India supporting the pricing function of the Insurance business for AXA XL, a division of AXA.
Laura started her career in the USA and then moved to the UK in 2007. The teams and businesses she has worked in have rarely stood still, and she has led teams through changes brought about by restructures, mergers, acquisitions and takeovers. Laura joined Catlin 5 years ago just before it was acquired by XL and then XL Catlin was itself purchased by AXA in 2018.  Laura was involved in both integrations in different parts of the business. In addition to the challenges of managing teams through change, Laura has been at the forefront of overseeing the rapid changes to the management and use of data to support insurance pricing.
Laura will draw from her experiences to share how she has coped with the demands of perpetual change for both herself and her teams.
Calum Byers – Senior Associate – Customer Attuned 
Calum has extensive international career experience within the telecoms and technology industry, where he managed sales, operational, product and R&D teams across EMEA, the US and India before founding his successful coaching business, which provides coaching to C-level executives and small business owners. Calum will facilitate a panel discussion on how best to develop resilience in changing environments; especially when old practices no longer apply.
Join us for breakfast, lively discussions and networking.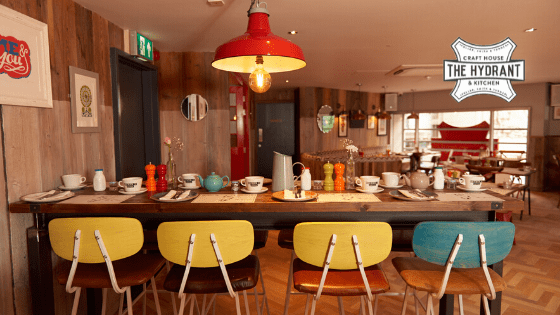 Latest posts by Ellie Luk
(see all)
https://customerattuned.com/wp-content/uploads/2020/01/B2B-March-18-Blog-post-600-px.png
300
600
Ellie Luk
http://customerattuned.com/wp-content/uploads/2022/08/logo-1.svg
Ellie Luk
2020-01-24 14:12:09
2022-06-22 12:47:29
Providing Leadership Through Change & Uncertainty – B2B Trust Series Event – 18 March 2020