The Golden Threads: Part 1 (of 12): Target Markets & Sectors
The Customer Attuned Assessment (CAA®) has quickly established itself as the leading customer management (CM) capability assessment that is 100% focused on B2B companies.
Based on the three vital underpinning drivers of success in B2B – Trust, Interdependence & Equitability – the CAA® model breaks down into a virtuous circle of:
Knowledge

Strategy
Planning
Implementation
Results
Working on three levels:
Operating in and developing your market
Managing account relationships
Organising resources and operations
The sub-sections that sit beneath the CAA® model (right) have been arranged to give twelve "golden threads" of critical B2B capability across knowledge, strategy, planning, etc.
The first golden thread is about how B2B companies decide on which markets & sectors they wish to target, and covers:
Market & Sector Knowledge
Have you mapped the way your market is structured? Are key drivers of growth or decline well understood? Is there good understanding of the most profitable parts of your market? Do you track the rate/extent of rising expectations? Is internationalisation seen as an opportunity or threat to your domestic business?
Market & Sector Strategy
Is there a clear strategy that defines which markets & sectors the company wants to enter, grow, reduce exposure, or exit? Do you have a reputation strategy? Is pricing clear and is the company's impact within the value chain managed? Are you actively countering the trend towards ever-shortening SLAs and LTAs?
Market & Sector Planning
Is there a clear plan for each market (geographic, segment or sector) to enter, grow, reduce exposure, or exit? Do you have plans to strengthen your reputation within the channels and markets in which you operate?
Market Sector Entrance, Management Exit
Do you have mechanisms to share market insights with customers in a way that adds value/builds trust? Is there evidence of market entrance, growth, reduced exposure, or exit according to the plan? Is there clear evidence of active reputation management, acting on all available listening mechanisms?
Winning in Markets & Sectors
Has a dashboard of hard and soft market measures been agreed internally and with key customers? Is reputational improvement being tracked?
How does B2B perform in these five areas?
Figure 1 shows the highest, lowest and mean (benchmark) scores for companies on the Customer Attuned database.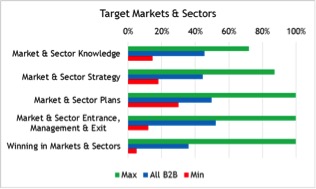 It shows that B2B overall is slightly better at planning and doing than it is in measuring or managing insight, but that excellence is achievable.
It appears that all B2B does at least a reasonable amount of market & sector-level planning, but based on incomplete knowledge & strategy.
Some B2B companies are only just starting their journey in the way they manage & measure their target markets. Where would your business score?
A company that has market & sector management as a defining characteristic of its corporate DNA:
Drives competitive advantage through its expertise in and clarity of the market(s) where it decides to play and the sectors in each market that it chooses to target and develop
Is disciplined about not expending time and effort on off-target opportunities unless there's a high-level strategic decision to use the opportunity to open up a new target market/sector
Get Involved!
We are conducting research in June/July 2015 into which of the 12 Golden Threads are of most strategic importance in your sector.
---
To read the full e-book please fill out this form and we will e-mail it to you.
[Form id="20″]
Have a view on this? Tweet to @CustomerAttuned// or Tweet to @PeterLavers//
Latest posts by Peter Lavers
(see all)
http://customerattuned.com/wp-content/uploads/2022/08/logo-1.svg
0
0
Peter Lavers
http://customerattuned.com/wp-content/uploads/2022/08/logo-1.svg
Peter Lavers
2015-06-30 11:00:59
2023-03-03 16:19:54
The Golden Threads: Part 1 (of 12): Target Markets & Sectors