The Golden Threads: Part 2 (of 12): Brand & Proposition
This series of blogs explores twelve "golden threads" of critical capability across the CAA® model and considers their application in B2B customer management (CM). All of the threads are important, but your business needs to decide which of these will be defining characteristics of YOUR corporate DNA.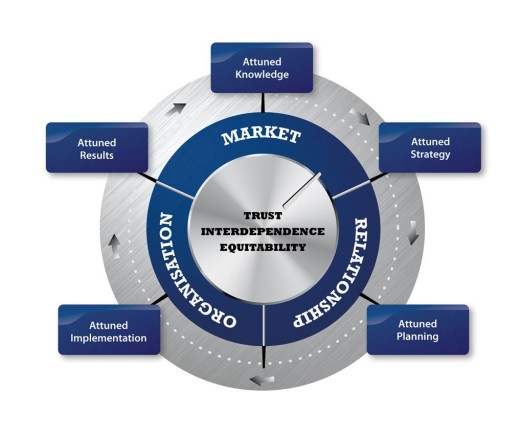 The second golden thread is Brand & Proposition, which covers:
Brand & Proposition Intelligence
Do you track your company's reputation? Do you research the needs of your customer and of their consumer/end-user groups? Is there a competitor intelligence database that includes analyses of strengths & weaknesses, and cost comparisons vs. market norms?
Marketing Strategy
Does the strategy drive the development of the overall proposition, CVPs, pricing and customer's customer propositions? Are the propositions & NPD co-created with staff, customers & consumers and regularly reviewed to reflect behaviours? Do you partner with key customers to innovate?
Marketing & CVP Plans
Does the strategy drive plans to develop the customer/consumer value propositions (CVPs)? Are service levels, benefits & competitive advantage clearly articulated and do you ensure that customers understand them? Are you testing/piloting marketing campaigns? Have you identified early adopters to trial NPD/OPD with?
Brand & Proposition Delivery
Are you always clear in communications why customers should deal with you? Do staff have quick and easy access to proposition & product information? Are new plans executed via the promotional mechanics that have proven most effective? Do you co-fund joint campaigns with customers for mutual benefit?
Brand Strength
Do customers describe your proposition back to you as their reason for choosing/staying? Do you measure the effectiveness of your marketing spend and joint marketing?
How does B2B perform in these five areas?
This figure shows the highest, lowest and mean (benchmark) scores for companies on the Customer Attuned database.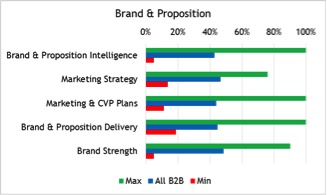 The chart shows the highest, lowest and mean (benchmark) scores for companies on the Customer Attuned database. It shows that B2B overall is solid, with all benchmarks between 40% & 50%, and that excellence is achievable. Some companies, however, are far behind – do they consider that their brand doesn't need managing?
Where would your business score?
A company that has brand & CVP management as a defining characteristic of its corporate DNA:
Has clearly defined its brand personality and is excellent at marketing itself above and below the line in its target market
Punches above its weight in terms of brand awareness and reputation for trustworthiness, working relationship and value
Has developed very clear needs-based propositions for their customer experience, products and service. These will vary by customer value, with higher levels of individual tailoring and seniority of account management for the highest value/potential (i.e. key) accounts
Has hard-nosed propositions that are promises that are kept, not vacuous "we'll try to" statements
Has staff who are clear on how to deliver these differentiated propositions effectively, whilst still providing a good basic level of service to all
---
Get Involved!
We are conducting research in June/July 2015 into which of the 12 Golden Threads are of most strategic importance in your sector.
---
To read the full e-book please fill out this form and we will e-mail it to you.
[Form id="20″]
Have a view on this? Tweet to @CustomerAttune// or Tweet to @PeterLavers//
Latest posts by Peter Lavers
(see all)
http://customerattuned.com/wp-content/uploads/2022/08/logo-1.svg
0
0
Peter Lavers
http://customerattuned.com/wp-content/uploads/2022/08/logo-1.svg
Peter Lavers
2015-06-30 14:58:34
2022-09-08 09:50:21
The Golden Threads: Part 2 (of 12): Brand & Proposition