Making Customer Centricity a Reality – June 2021 Newszine
Welcome to the latest issue of the Customer Attuned Newszine: Making Customer Centricity a Reality
Do you customers really benefit from your customer strategy?
Customer Centricity is a subject at the top of many companies' agendas, especially as we come out of lockdown and begin to get back to working life as we once knew it.
But what does it really mean? In simple terms, look at your customer and supplier strategies and ask yourself, did they actually benefit from the strategy? What would you change looking back? Did the relationship grow or is it hanging on by a thread?
In this issue of Newszine, there are some truly insightful articles contributed by different members of the Customer Attuned team, looking at customer centricity from lots of angles. Get ready to make lots of notes!
Contents: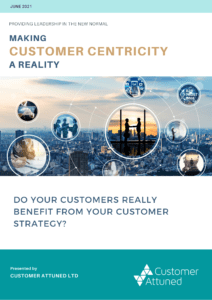 Page 1: Welcome from Ellie Luk
Page 2: Guest speaker biographies – Paul Willoughby – Beazley Group, Louise Evans – UCAS, Peter Lavers – Customer Attuned
Page 4: Making customer centricity a reality – what capabilities do we need in our people? – Alan Thompson
Page 7: Customer Centricity & Foodservice Supply Chain – Gary Lunt
Page 8: Is CRM the Artery to your Business? – Paul Cranston
Page 10: Three signals that your company might not be customer-centric – Peter Lavers
Page 13: What is your Customer Relationship Purpose? – Dr Mark Hollyoake
Please get in touch if you'd like to discuss any of these issues.
Latest posts by Ellie Luk
(see all)
https://customerattuned.com/wp-content/uploads/2021/06/June-Newszine-Making-Customer-Centricity-a-Reality-Cover.png
2000
1414
Ellie Luk
http://customerattuned.com/wp-content/uploads/2022/08/logo-1.svg
Ellie Luk
2021-06-07 10:51:30
2022-06-23 11:16:59
Making Customer Centricity a Reality – June 2021 Newszine