The Impact of Hybrid Working on How we Manage and Build Customer Relationships – Nov 2021 Newszine
Welcome to the November issue of newszine: The Impact of Hybrid Working on How we Manage and Build Customer Relationships
Hybrid working is something that a lot of people have always wished for, the ability to juggle a work-life balance whilst working a full week. And if I may speak on behalf of many parents who left their jobs to raise young families, surely they will be rejoicing at the prospect of more flexibility in their career choices if this new way of working is here to stay.
Inside this issue the Customer Attuned directors share their insights on the impact of hybrid working on internal teams and on the customer, and we also have guest articles from thought leaders in customer experience, who share their perspectives on this new style of working.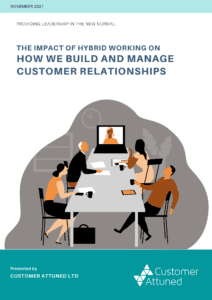 Contents: 
Page 2: Welcome and panel discussion joining instructions
Page 3: Speaker spotlight
Page 4: "Reorienting our relationships in order to meet new requirements" by Dr Mark Hollyoake
Page 6: "A foundational principle for remote working" by Paul Cranston
Page 8: "Hiding from Customers; A Dangerous Pandemic Reaction" by thought leaders: Doug Pruden and Terry G. Vavra, Customer Experience Partners, LLC.
Page 10: "Supporting Clients as they Manage their new homeworkers" by Alan Thompson
Page 11: "With inflation announced – Relationships could get strained!" By Alan Thompson & Dr Mark Hollyoake
Page 14 – 17: New Look Customer Attuned company brochure
Latest posts by Ellie Luk
(see all)
https://customerattuned.com/wp-content/uploads/2021/11/Newszine-Cover-Impact-of-Hyrid-working-on-customer-relationships.png
2000
1414
Ellie Luk
http://customerattuned.com/wp-content/uploads/2022/08/logo-1.svg
Ellie Luk
2021-11-22 13:54:12
2022-06-23 10:38:57
The Impact of Hybrid Working on How we Manage and Build Customer Relationships – Nov 2021 Newszine