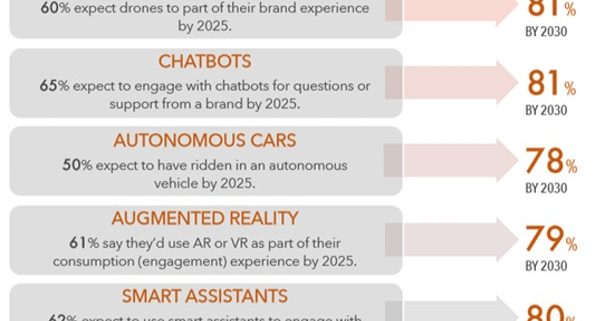 Customer Experience: Digital or Human?
Delivering a 'human' customer experience in a future that's increasingly 'digital'.
Reading the SAS / Futurum "Experience 2030" report about how
"consumers don't just use digital, they are digital"
made me think of how much customer behaviour has changed in recent years, and how in many ways this change has only just started.
Disruption at every turn
One of many examples of this is in the sector where I started, and have worked in and around for nearly 40 years – the auto industry. This sector is in an unprecedented period of market and legislation-driven disruption in its brands, products, markets, fuels, financing, taxation / charging – and the channels and media it uses. All at once!
The research confirms that autonomous vehicles will completely transform ownership and usage in urban areas, and all new cars and vans will be utterly 'connected' – to you, the city you're in, and the other vehicles around you.
Comparable disruption is being seen across sectors, and it's worth noting that these changes aren't happening in a vacuum. It has never been more important to understand and track how political, economic, demographic, social, and environmental trends and pressures are impacting your particular sector.
Pressurised markets
The result of such quick and erratic change has led to a pressurised trading environment in most developed economies, with conflicting tensions for customers as well as suppliers/providers:
For customers, their empowerment has led to an attention war for ever-diminishing attention spans; austerity and the shift towards a gig/rent economy has shaped an increasingly savvy generation; the quest for "purpose" and "a cause" (e.g. climate action) has led to the questioning of the motives and ethics of suppliers as well as the quality and price of their products
On the supplier-side, the forms of disruption aren't new, but the effects seem quicker and more severe: market distress caused by oversupply; mergers and acquisitions shifting the power balance; new and agile entrants "eating the lunch" of long-established high-overhead incumbents; demands for ever-shorter lead times and ever-smaller order quantities. These are driving an out-and-out need for super-efficiency
In many ways "digital" has been the answer to relieve this pressure on both sides – ease and choice for the customer; productivity for the supplier.
Will it ease off?
The SAS / Futurum "Experience 2030" report (and its excellent series of podcasts) confirms that the trends of digital transformation and insight-driven customer engagement will continue and increase.
It forecasts c.80% adoption (EMEA report figures) of key new technologies that will enhance or simplify the customer experience (CX) – and don't forget there'll be others that haven't been invented or launched yet!
It also, however, reveals that access to a "live person on the phone to answer questions" will continue to be a driver of consumer loyalty in the next ten years. It consequently and very wisely advises companies to empower "customer service agents to work alongside automation, adding a human element and empathy to customer communications and problem resolution".
Yes, customers want the best of both worlds, and the winners will be the providers that strike the right balance between human and digital customer experience.
I would highly recommend that you download and read the SAS / Futurum "Experience 2030" report (and check out the related podcasts), as its conclusions about "immersive technologies" hold many keys to implementing these technologies in a customer centred, joined up, insight-led, and digital-first way.
Keeping the human element in innovation and design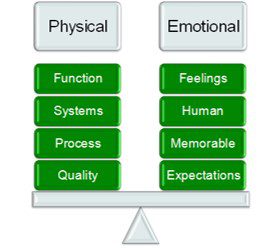 It is now commonly accepted that more than 50% of the customer experience is emotional – customers remember how they felt rather than how well they were processed.
Too many new technology initiatives focus on the physical "what we will do for you" rather than the emotional "how we will make you feel about it".
The diagram illustrates this. Going back to the auto industry example, does the left side remind you of a German car whereas the right side remind you of an Italian one? CX needs both!
My advice is to keep a clear balance between these physical and emotional needs when you design and innovate immersive technologies.
It will inevitably point to the stages of the customer journey that will still need human involvement – at least in the short term.
Be intentional about this – don't make assumptions and never allow the elements of the project that will deliver that emotional value to be pushed into "phase 2" or de-scoped from the MVP (minimum viable product).
They're worth fighting for!
Please get in touch if you would like a deeper conversation about keeping the human CX element within your digital transformation, or with SAS UK to see how their tools and expertise in powering immersive technologies can help you.
This unpaid-for blog was authored by Peter Lavers as part of the SAS Collaborators Programme.
Latest posts by Peter Lavers
(see all)
https://customerattuned.com/wp-content/uploads/2020/02/SAS-Human.jpg
408
605
Peter Lavers
http://customerattuned.com/wp-content/uploads/2022/08/logo-1.svg
Peter Lavers
2020-02-04 16:18:40
2022-06-23 10:20:44
Customer Experience: Digital or Human?